This past weekend, we completed another successful round of Teufelshund Tactical training courses. As it has come to be standard practice, I have assembled my thoughts, photos and videos into an After Action Report to post here, so that those who attended will have a reference point come back to and so those that did not attend will be able to see all the fun and excellent training they've been missing.
Let me begin by thanking Paul and his Frontline Defense staff, for once again hosting this training at his outstanding range complex. Having such extensive access and support allows us to really stretch the boundaries of our training far beyond what most classes can provide and we are immensely grateful for the freedom that provides. If you're in North Carolina and looking for excellent training opportunities or just a place to shoot like you can't anywhere else, I highly recommend you check out Frontline Defense and the courses that Paul offers.
Pistol, Rifle, & Shotgun Outdoor Shooting Range Warrenton NCFrontline Defense | Firearms Training Center & Range
Just "getting there" is always a crucial element each course and training at Frontline Defense would not be complete without a stop at our favorite sponsor, Sheetz. You can always count on there being great snack food options, ice for the cooler and an array of questionable and shady customers milling about to max out your daily dose of "people watching".
Our training consisted of a Pistol Operator Course, followed by a Rifle Operator Course, over a period of three days. The goal of both was to provide an in-depth and rapid progression of the fundamentals (establishing a new and proper baseline) while constantly stacking a specific set of sequential drills, designed to increase performance (speed and accuracy) and proficiency (confidence and instinctual abilities). Progression from focus on the individual to teams (increasing situational awareness), as well as a solid exposure to working around barriers and vehicles and lighting techniques, provided the opportunity for students to push themselves into real world scenarios of operating in both day and night.
Being able to wrap so much into such a short period of time takes a huge amount of preparation, experience, skill and knowledge in training design, as well as how to best approach students individually instead of as a whole. Each person learns differently and when introducing new concepts, often counter to hard-learned experience, being able to do so while connecting personally with each student in a manner that allows them to understand the "why" behind each topic, while keeping them comfortable, positive and motivated about rapid progression, is proudly one of the major strengths that Teufelshund Tactical brings to the game. Combining that capability with the small class sizes that we like to maintain and the result is a level of focused attention and personal support to each student rarely matched in the training business. The byproduct of this and the efficiency and the rapid gains students make is that they also get to shoot more than during most courses. "Getting your reps in" is what assimilates a drill/technique into a muscle memory operation and where in some training courses, the class may only have time to try each once or twice, here we have far more opportunities, and the ability to go back and run another again, if desired or necessary.
We began the Pistol Operator Course, as we do with all our training, by having each student provide an introduction, including a description of the goals they aim to achieve from the training course. Then, we dive right in. Right onto the firing line we went and conducted an initial CET, beginning at 3m and working back to 25m. This provides an initial assessment of where the students are at that point and we can observe the experience levels that they brought with them. Then, we capture the results of the drill on the target with our camera for reference later during the training, after we shoot the same drill. Then the students are able to witness the dramatic improvements made in just a few short hours of dedicated and focused skill progression.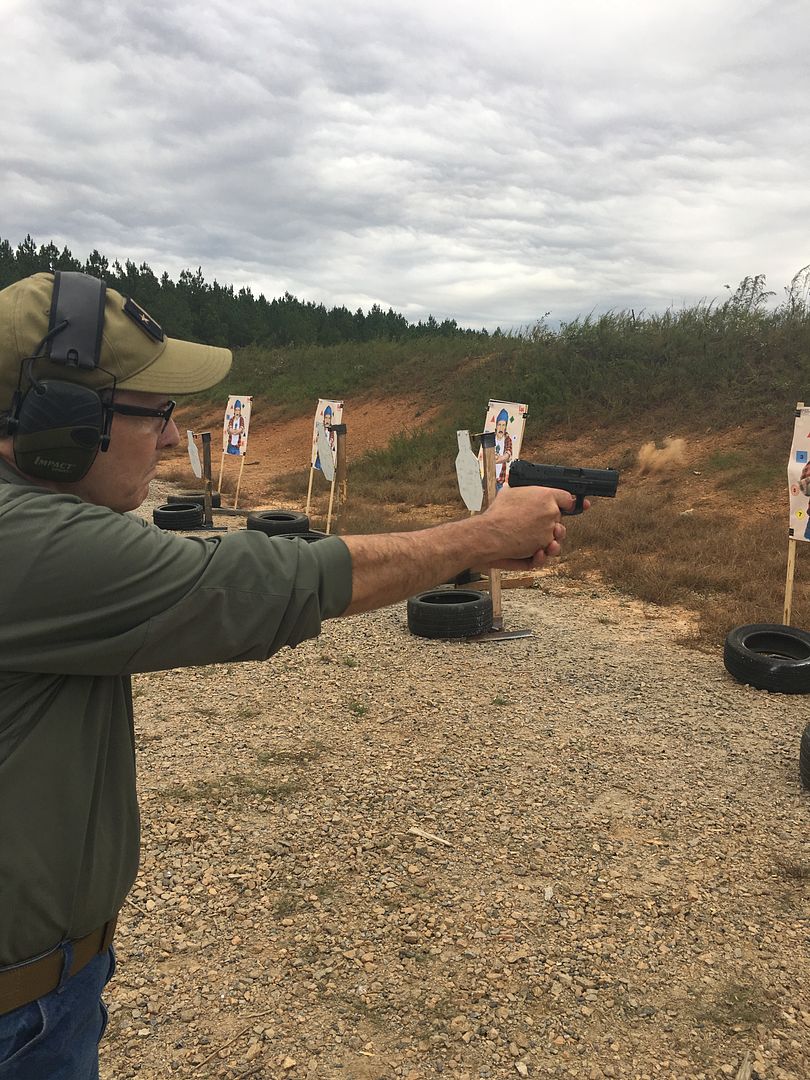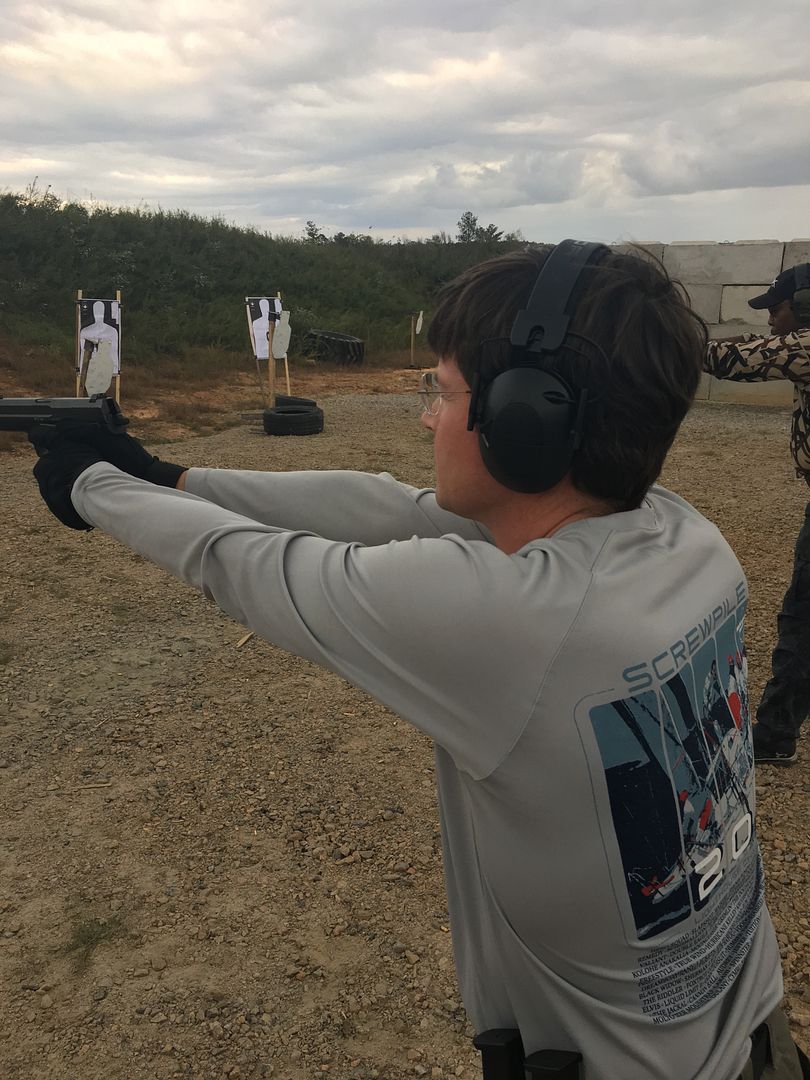 With the initial CET complete, we began at very close range, focusing first on building a solid foundation, from the feet all the way up through the hands to the pistol. Not until the foundation is confirmed do we move on to eyes and then trigger control. As we progressed, speed and accuracy began to build, along with confidence. Specifically, we built speed, both from the "low ready" and then from the holster, by not going fast, but instead by slowing down. By the numbers, we then deliberately began cutting our time restrictions down until smoothness became natural and speed was simply a byproduct.
Here, Ben provides a Proactive Reload demonstration:
https://www.youtube.com/watch?v=eDl5OH65T5Q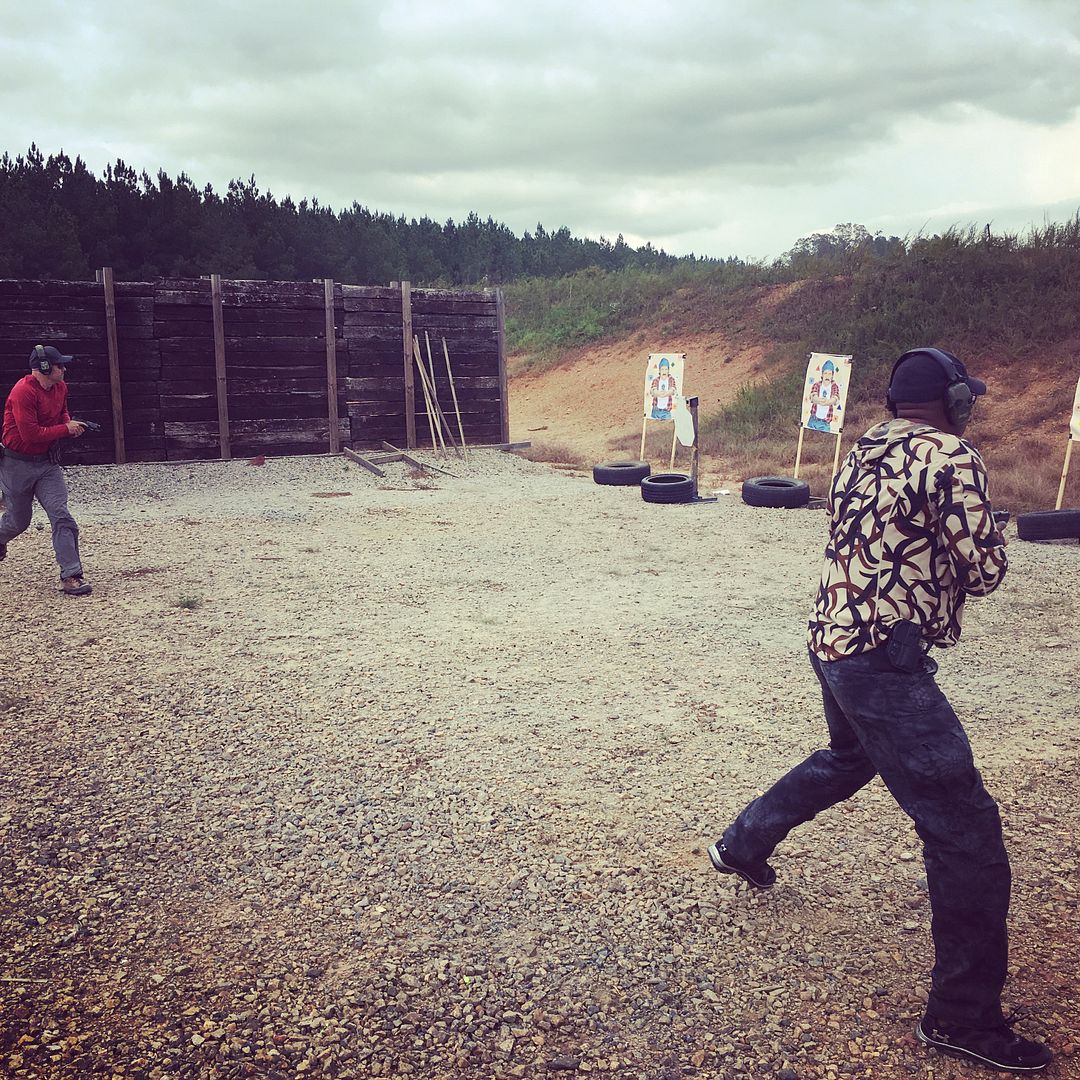 Reloads, malfunction clearances, and then movement were then introduced. Then, before daylight faded, we moved over to the second training bay which had been dedicated for our use and conducted vehicle operations; both front and side vehicle ambush scenarios.
After a break for dinner and a block of instruction on the fundamentals of darkness operations and lighting techniques, we moved back out onto the range to move through a series of darkness drills. We began by conducting a mesopic CET, where the students fired in the darkness, without lights, confirming their instinctual abilities and the confidence that comes from trusting them and just using your night sights. Next, we progressed through searching and shooting drills, first with hand-held lights and then with weapon mounted lights. Then, we added movement. And finally, we transitioned over to the vehicle training bay again and covered the vehicle ambush drills in darkness.
After almost 12 hours of training, we wrapped up the evening with a thorough debrief, covering "sustains and improves" and goal attainment from each student. Then, after providing graduation certificates and an appropriate level of SWAG, we retired for the evening, in order to prepare for the next day's events.
On Saturday morning, we formed again. This time, we began with a confirmation zero for our carbines, and with that set, we began again with an initial CET. Then, progressing through a series of similar drills as with the pistol the previous day, we progressed rapidly through these stacked drills, building speed and accuracy along the way.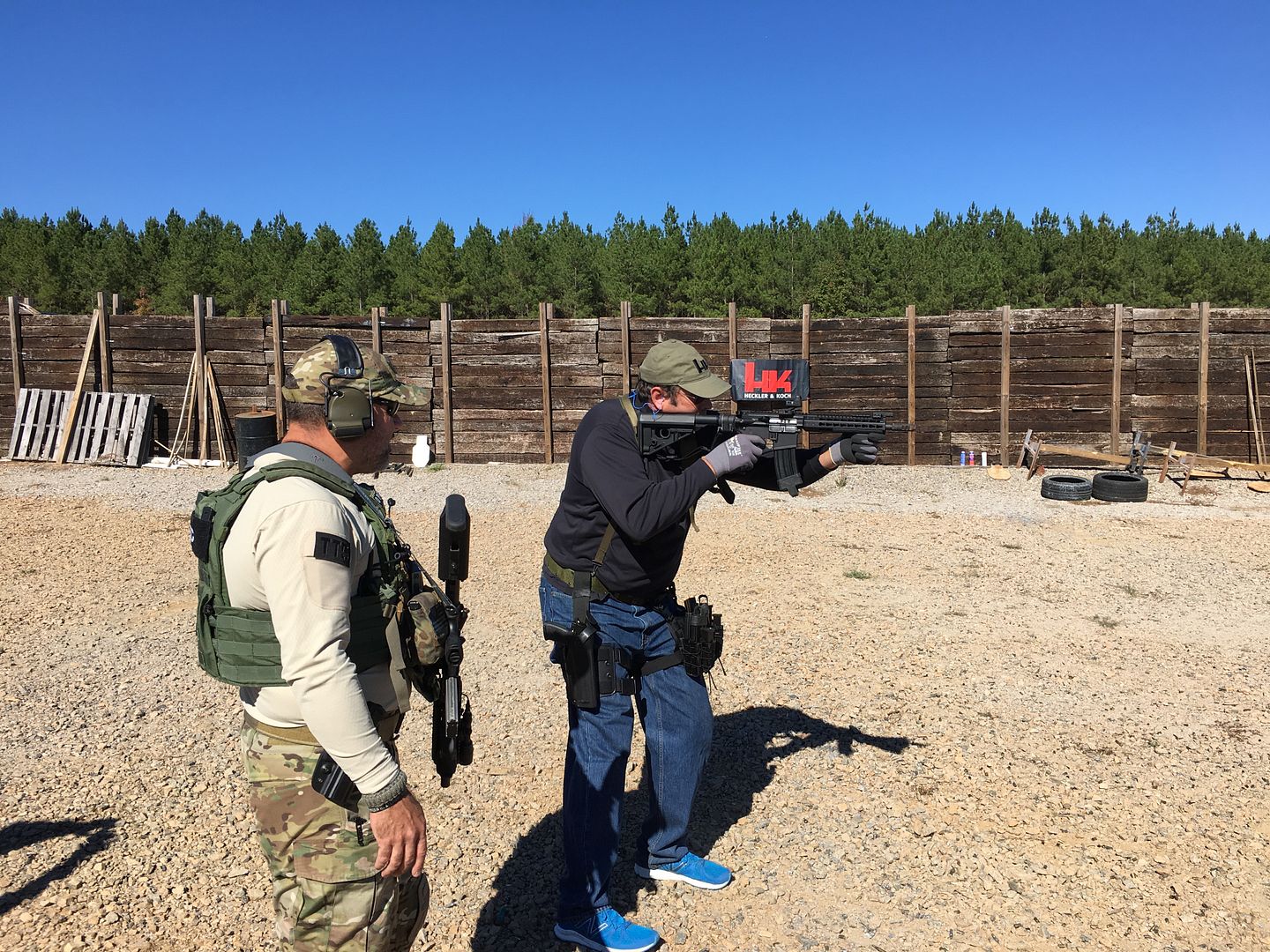 After working through a few movement drills, we spent the rest of the afternoon covering team drills in and around the vehicles on the second training bay.
Here, I provide a demonstration with Ben of the Vehicle Ambush Drill from the side:
https://www.youtube.com/watch?v=EJINXWXZz1Y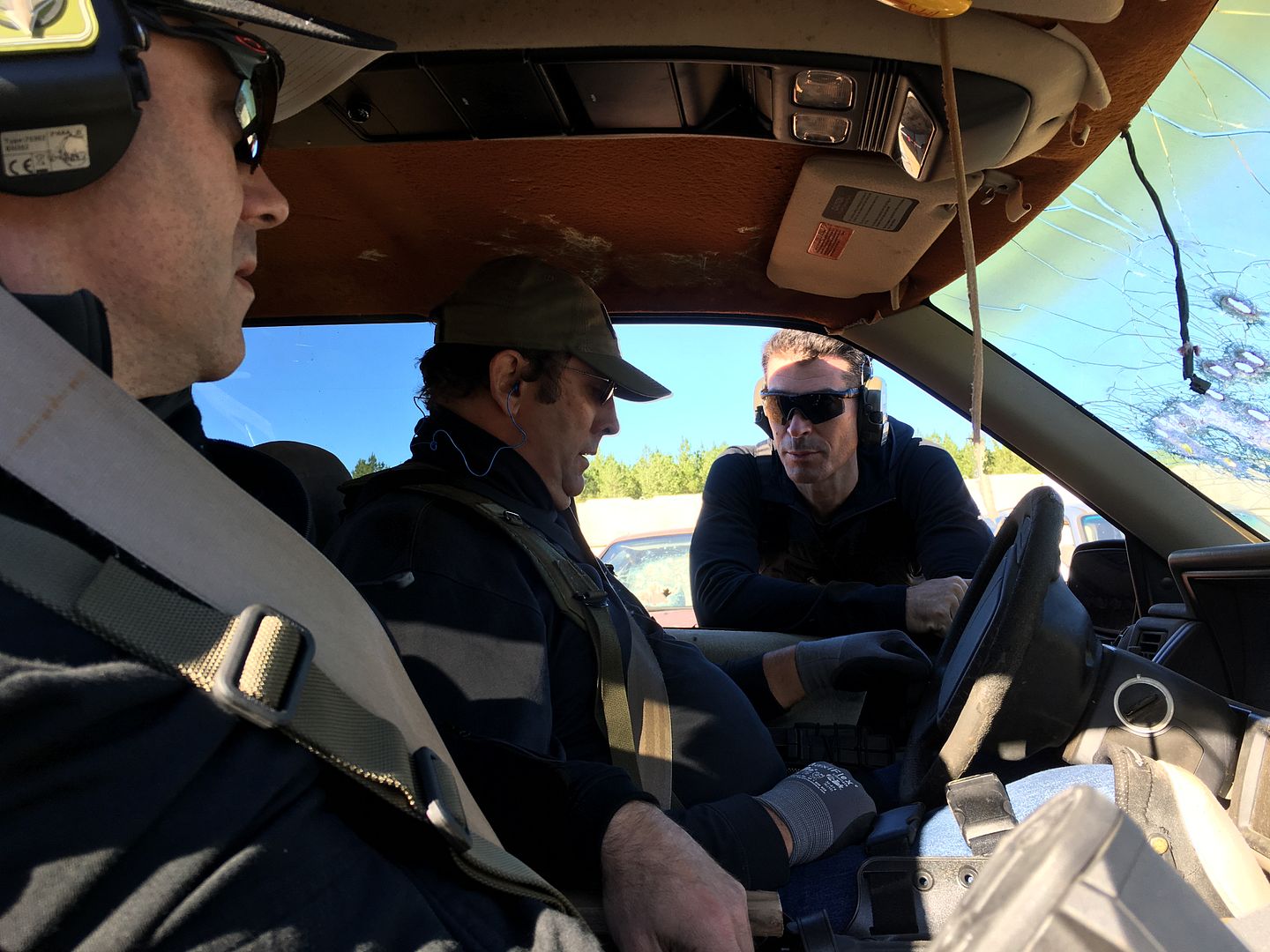 Then, after dinner and another block of instruction on darkness operations and lighting techniques, we ran through similar no light/low light drills as the previous night, but this time incorporating rifles with weapon mounted lights. Adding movement, we then finished off the evening back on the vehicles for team front and side ambush drills. Another debrief and then it was off to catch some much needed rest before the final day of training.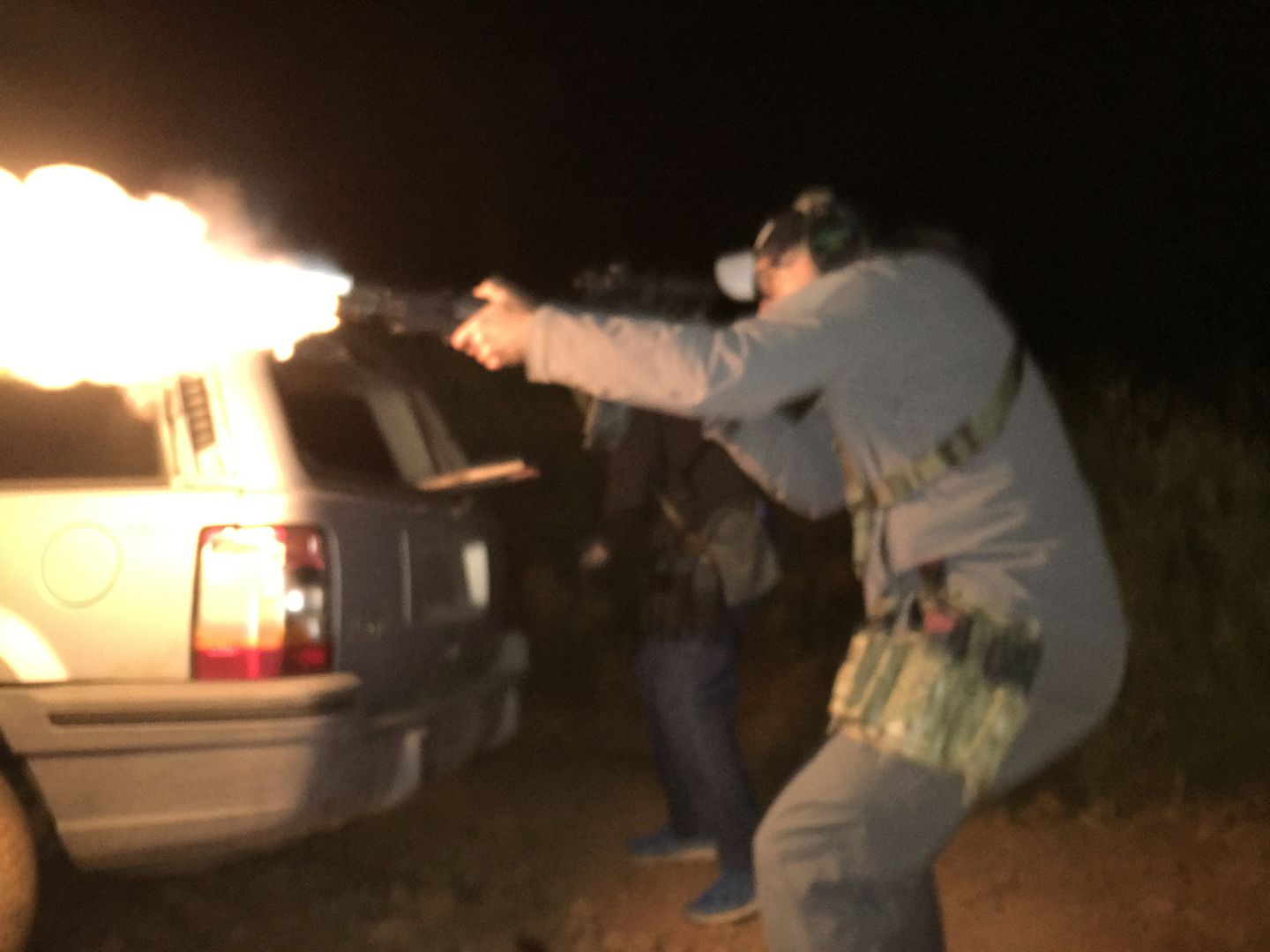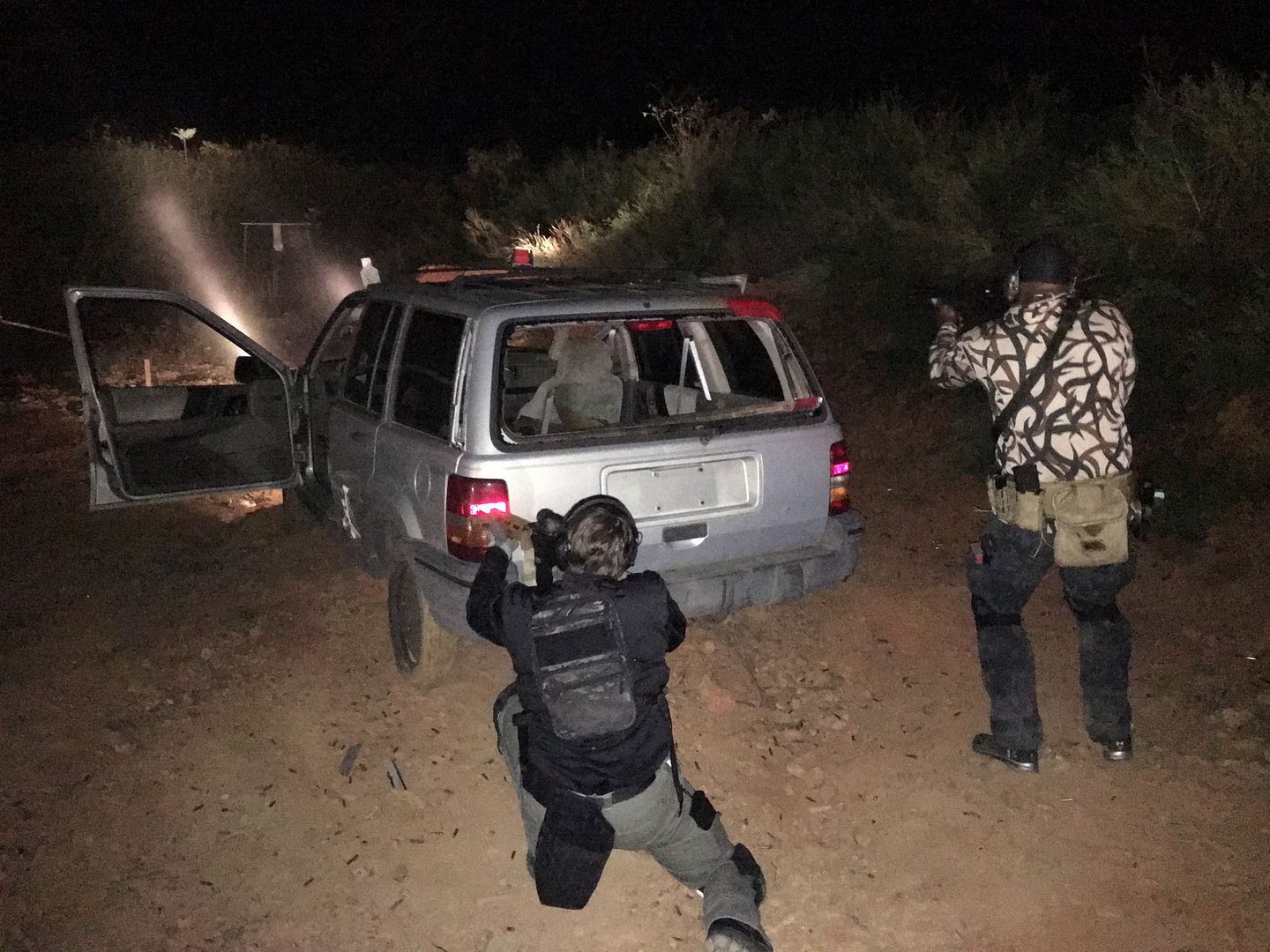 For the last day, we began on the 300m range for one of my favorite confidence drills, the "walk back". Beginning at the 50m line, we formed a line and then, taking a shot from your position in the line and then moving back to your next position at the back of the line for the follow on shot, we progressively moved back all the way to the 300m line. The goal is to get a first round hit at each position from the standing, unsupported position, and you're not able to move back until you make a hit, regardless of how many rounds that may take. Of course, I was proud of all of the students, as you could see and hear (as the rounds impacted the steel) that all the hard work on fundamentals forged at close range the previous day, was now paying off at distance, where even the smallest failure to adhere to fundamental work can result in missing the target completely.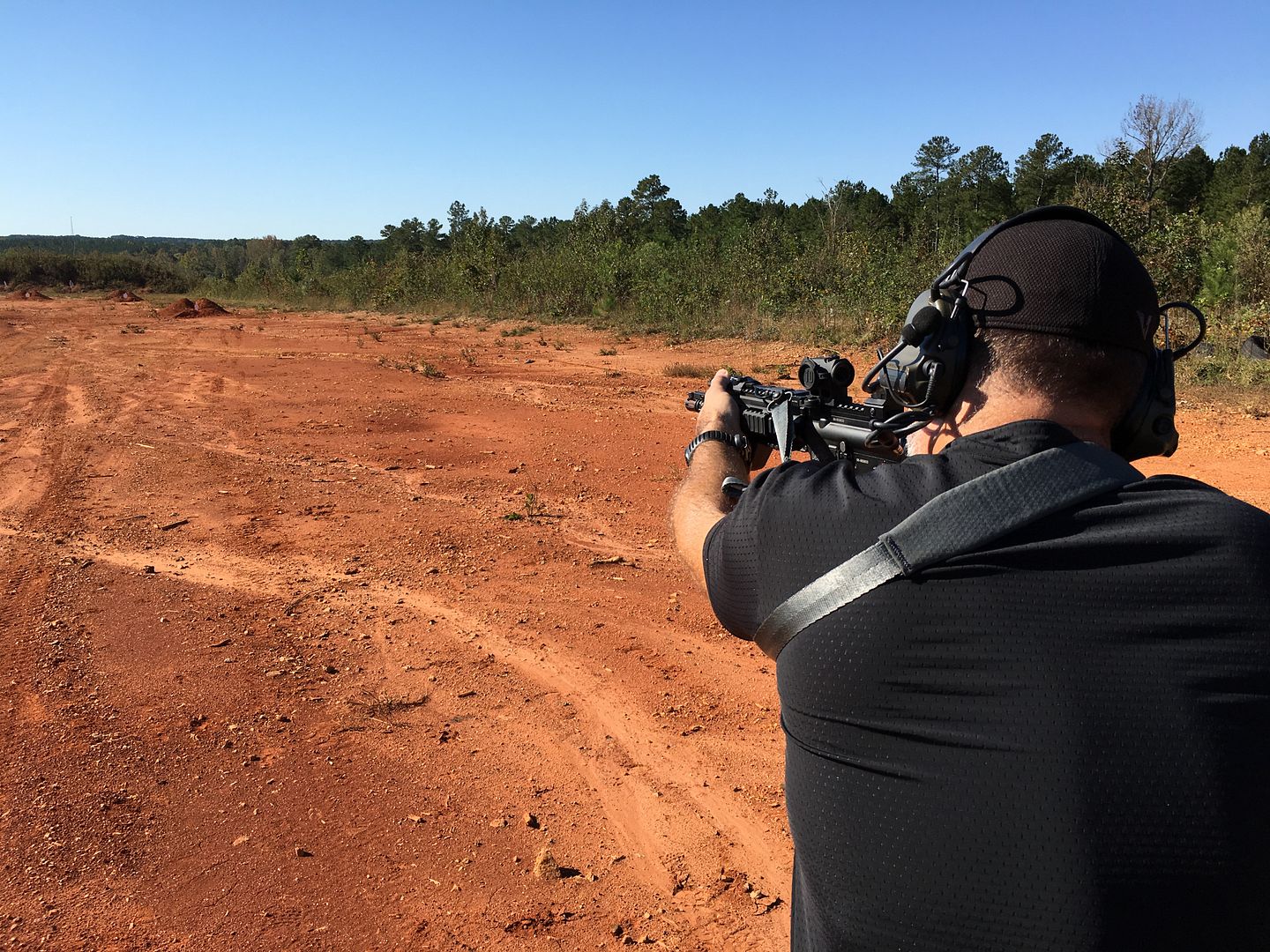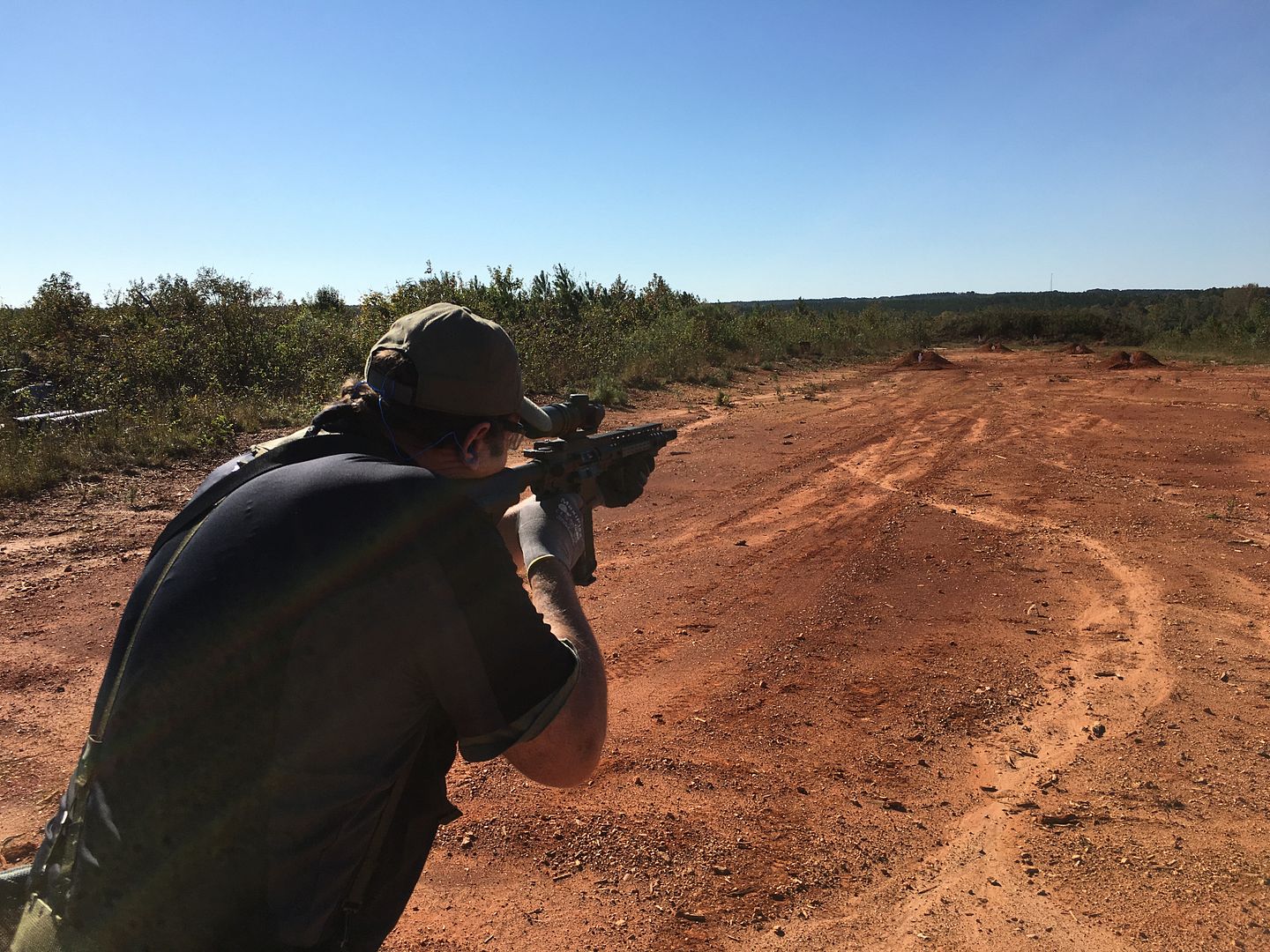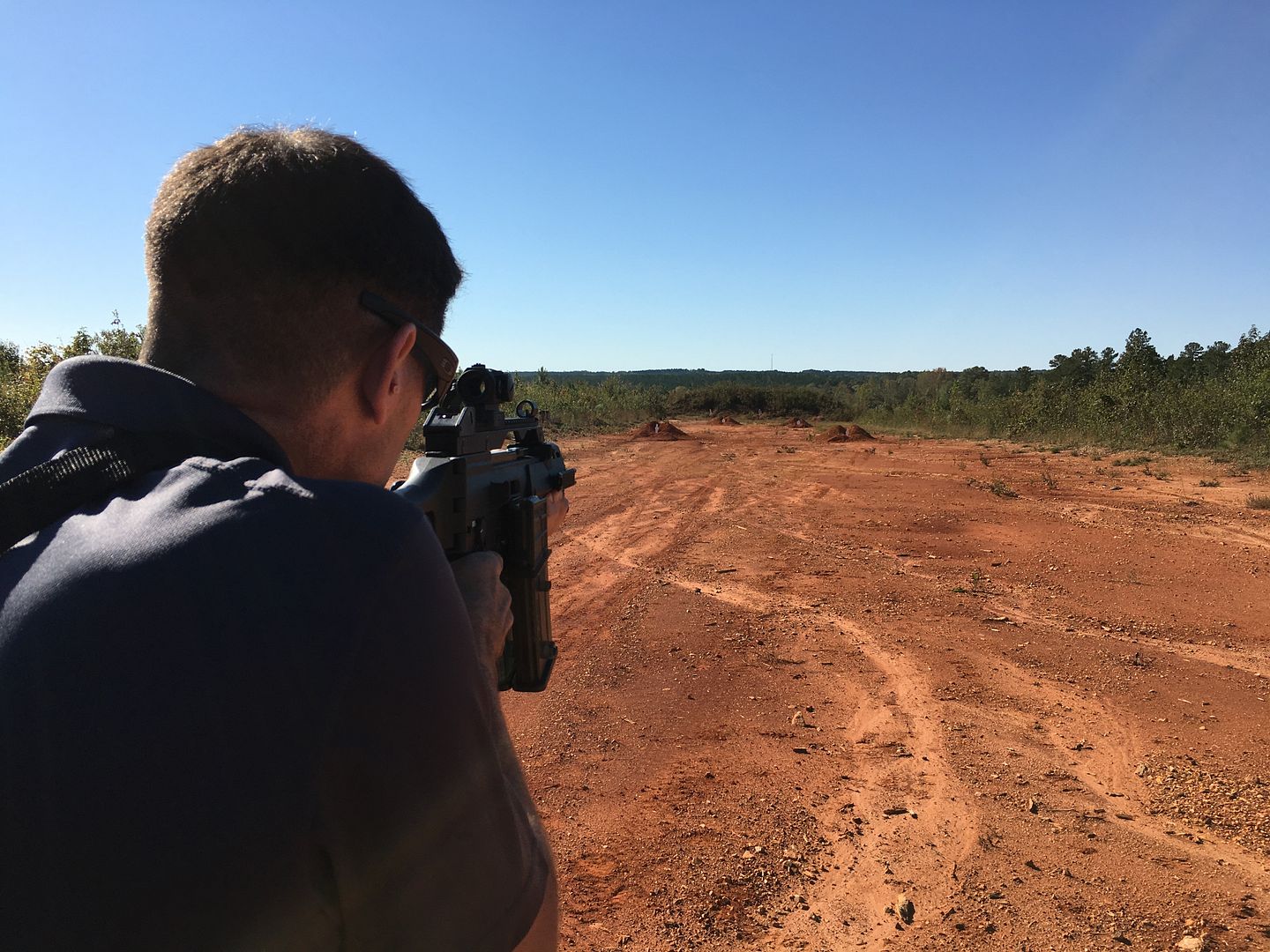 Personally, during this event, I was incredibly impressed with the weapon I was using for this drill. I had just taken possession of a new G36C only a couple of days prior and this weekend was my first time to get it zeroed and run through its paces. I know many of you have heard all of the rumors and hyperbole about the inaccuracy of the G36 series weapons, but I can tell you that is a bunch of nonsense. This weapon, with its 8.9" barrel, milspec trigger and only quickly zeroed Aimpoint T-1 red dot optic produced first round hits on every firing position (over 40 in all) except one, from the 50m to 300m line. The one time it did not, was completely on me, due to adjusting to wind and rushing the shot (it took me three rounds). Between the accuracy displayed there and the reliability demonstrated throughout the weekend, I can tell you that I am extremely impressed with the G36C; so much so, that I purchased a G36K and arranged for the transfer the next day.
Here, I provide a Slow Motion Demonstration of the G36C taken during the course:
https://www.youtube.com/watch?v=7WOTy2DfsZ8
And not to be outdone, here Ben provides a Slow Motion Demonstration of the HK416 as well:
https://www.youtube.com/watch?v=JFrZ0IOpKyw
Before moving back to the original training bay, we conducted one more drill, focused on speed, accuracy and forward movement, on the 300m range. Then, we spent the remainder of the day working through reload and malfunction drills and culminating on a couple of movement drills and finally the Teufelshund Tactical CET, which would more appropriately be referred to as "the humbler".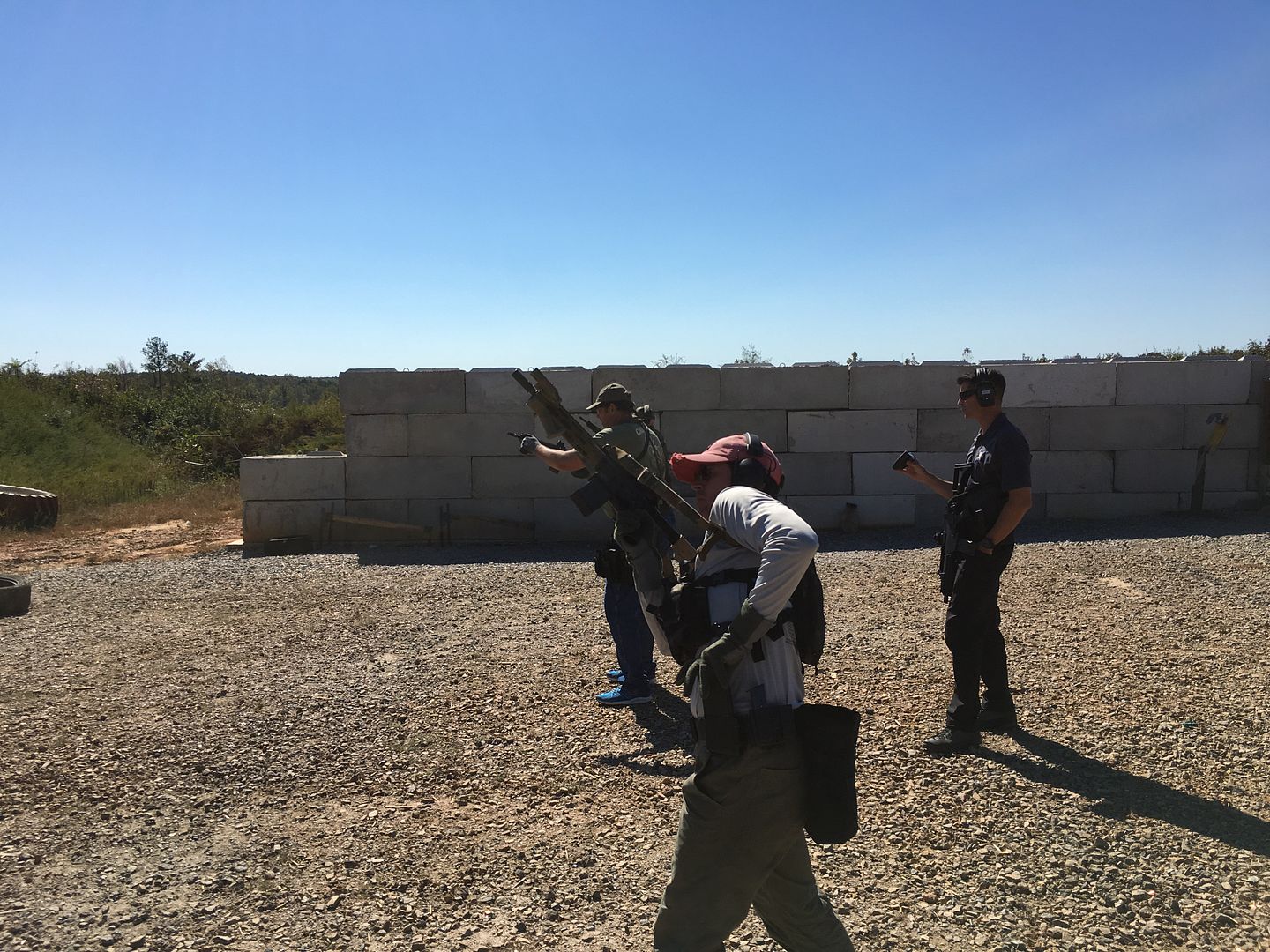 We then wrapped up the weekend by again conducting a debrief, passing out graduation certificates and associated SWAG. Knocking down goals, seeing huge gains in proficiency and performance and setting new goals, while having a great time with outstanding friends makes all the hard work worthwhile.
I have to say that it is personally extremely humbling to have the opportunity to provide this training and share this knowledge. Even more so when you see such dedication on behalf of our students. I continue to be overwhelmed to have so many returning students. In fact, of those who were there for the Rifle Operator Course, every single one had already attended one of our previous courses this year, and for Sean specifically, I've almost lost count of how many courses he has attended with us. That level of support to our training programs is far uncommon in the training community, shows us we are on the right track with what we are doing and motivates us to continue to improve and adapt our training programs; always focusing on process improvements and the needs of the customer.
So, with great thanks to the level of commitment displayed by all our students and friends, and once again to Frontline Defense, we look forward to the next opportunity to share the firing line with you.
And for those others who may take the time to read through this After Action Report, I trust it will educate you to the great opportunity that training like this offers, from learning more about your weapons, building a foundation of proper shooting techniques, pushing yourself further than you've been able to previously and making friendships with a like-minded and motely group of HK fans. We hope you'll join us for a training in 2017.
Lastly, channeling my best inner-HK ITD, here I proudly represent H&K: