Those of you who know me and follow my vendor section and FaceBook page understand that, at the completion of training that I either conduct or attend personally, I like to put together After Action Reports (AARs). They serve as an excellent opportunity for me to sort through my own thoughts and notes and capture them in one place for later reference and also allow others to get a snapshot of another excellent training opportunity for them to consider.
This past weekend, while wrapping up an assignment in Florida, I seized the initiative to take advantage of a training course being hosted a few hours south, by Altair Training Solutions. Altair offers over 12,000 acres of extremely capable training areas, with a welcoming and supportive staff and surprisingly impressive lodging too.
Altair Training Solutions
Altair was hosting Jason Falla, owner of Redback One. I'd heard quite a bit of Jason's programs over the years, but had yet to have had the opportunity to purse training. The time had come to remedy that, so with Ben making the trip down as well from North Carolina, we loaded up a trunkful of H&K goodness and made our way further south.
We were met, when we arrived by the Altair staff, Jason and an assembled group of students, almost entirely LE officers, including several SWAT members. Always pleasing and not surprising, I bumped into a few fellow Marines and even another excellent shooter I had met earlier this year while assisting with a Haley Strategic course up in Northeast Florida.
The group dynamic is almost as important to me as the instructor and his program and these guys were great. From the beginning to end, their safety and shooting was on point and even despite the high heat, humidity and rain, their humor was as thick as the mosquitos. Jason did not disappoint either. From the start, he was professional, yet approachable; demanding in attention to detail, but willing to laugh at his own mistakes.
I'm not going to go into Jason's background beyond saying that he has a wealth of Special Operations experience dating back to his service with the Australian Commandos and Special Air Service. This was followed up by a career providing training over the last ten years, with heavy LE and Special Operations military focus. You can find out more on his website:
REDBACK ONE COMBAT TRAINING SYSTEMS
The course we were attending was his program entitled, Close Quarters Combat Shooting — Carbine and Pistol. Direct from his course description, "The objective of this course is to increase the existing individual skills of each student in combat marksmanship. Students will be introduced to new concepts and skills designed to increase speed, efficiency and accuracy while maintaining a focus on the combat application of each drill. "
The method of delivery of instruction for this course is described by Jason as the "Redback One Shooting System". After running us all through a series of assessment drills, he presented us with the fundamentals of this system; a consistent approach to the tactical employment of the M4 and pistol, including carriage, control, handing and operation. The goal was to provide the students with a series of specific techniques with which to safely and confidently employ our weapons with an increased degree of speed, efficiency and accuracy while operating in a tactical environment.
One of my biggest frustrations when attending training is when I have an instructor who fails to explain the "why" behind each new technique or drill. I've lived through a career in the Marine Corps of being told, "because that is what the Program of Instruction says", or with Instructors who have no real answer and you get the impression that this is just a drill that they personally just like. With so many ways to grip a rifle, position your spare magazine, adjust your sling, or any number of tasks associated with combat shooting, I want to know why the Instructor prefers one over another. Jason gave us all that and more.
Jason introduced each skill by explaining the purpose of the skill, why it is important to learn and how it can be applied in a combat situation. He then provided demonstrations detailing the standard he expected us to achieve and maintain. We then conducted individual and then collective practice until we achieved the proficiency desired in live fire testing.
Some skills I was already intimately familiar with, others were slight modifications to my own preferences, while others were completely new. Yet, all were simple and easy to learn and designed from the outset, and confirmed through years of practice and real world experience, to be replicated effectively under stress. Far from a basic level of instruction, this course was on the high end of experience level and drove our proficiency levels even further up. Both Ben and I found the instruction and program easy to receive, demonstrate and assimilate.
This is a good time explain the lack of photos and video that I normally like to have accompany my text. Jason made it clear from the start that he did not want his instruction, which included not only his program, but also his sharing of many real world examples of employment that, for the protection of those who operate against our foes, should not be open source. Though Ben and I were able to snap a few personal photos, we would not have had much of an opportunity for anything of the training itself anyway, as we were too busy "getting after it".
Since this course was based around the M4 platform, we brought HK416s, but since I also wanted to have the opportunity to shake out the MP7A1 KSK, I pulled it out for about half of the course too. For handguns, we both ran VP9s, though I also rotated in one of my P7M13s; always a favorite of mine.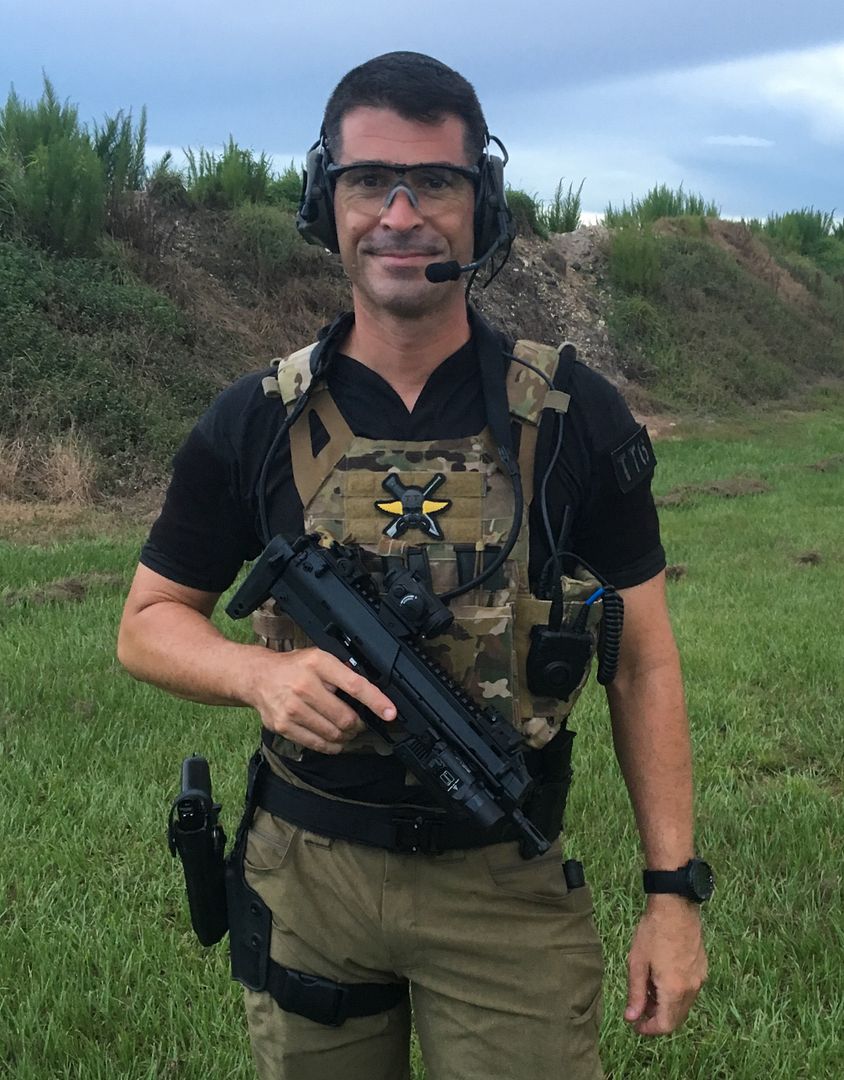 The other students had all manner of M4s, with BCM and Daniel Defense seeming to be the most common, and as always, like Toyota Camry's in a mall parking lot, lots of Glocks.
We did a pretty fair amount of malfunction clearances, including some superb new techniques for hard clearances, but beyond those we purposely incurred, neither Ben nor I experienced any with our H&Ks, though I did have one HK416 polymer magazine that was found to over insert during reloading, preventing the bolt to move forward upon actuating the bolt release (I marked it and set it aside). The high reliability of our weapons throughout was impressive, especially considering how hard we were running them in less than ideal conditions. For some of the students and even Jason, that was not the case though. Besides a consistent trend of double feeds for some, the most unusual was the appearance on multiple occasions of blown primers, which locked up the weapons, when the primers lodged behind the bolt cam pin. Strange to say the least.
Another major benefit of training courses and being exposed to new and challenging Tactics, Techniques and Procedures (TTPs), is that it allows you to sort out your gear and equipment to find out what works, what doesn't and what does or does not compliment your weapons. I came away with several pages of observations, both personal and of the group, to take back and process as I continue to refine my own kit and what I recommend to my own students, all with experience to back it up.
Training lasted all day and well into the night of the first day and until late in the day on Sunday. We even received brief instruction during the catered meals and pushed right on through despite several welcome rain storms. It was clear to all of us, as we "drank from the firehose" of instruction, that two days was just not enough for all that Jason was attempting to impart on us. I've been there many times before and I'm confident that this could have easily been stretched out to a five-day course and we'd still not have enough time to get it all in.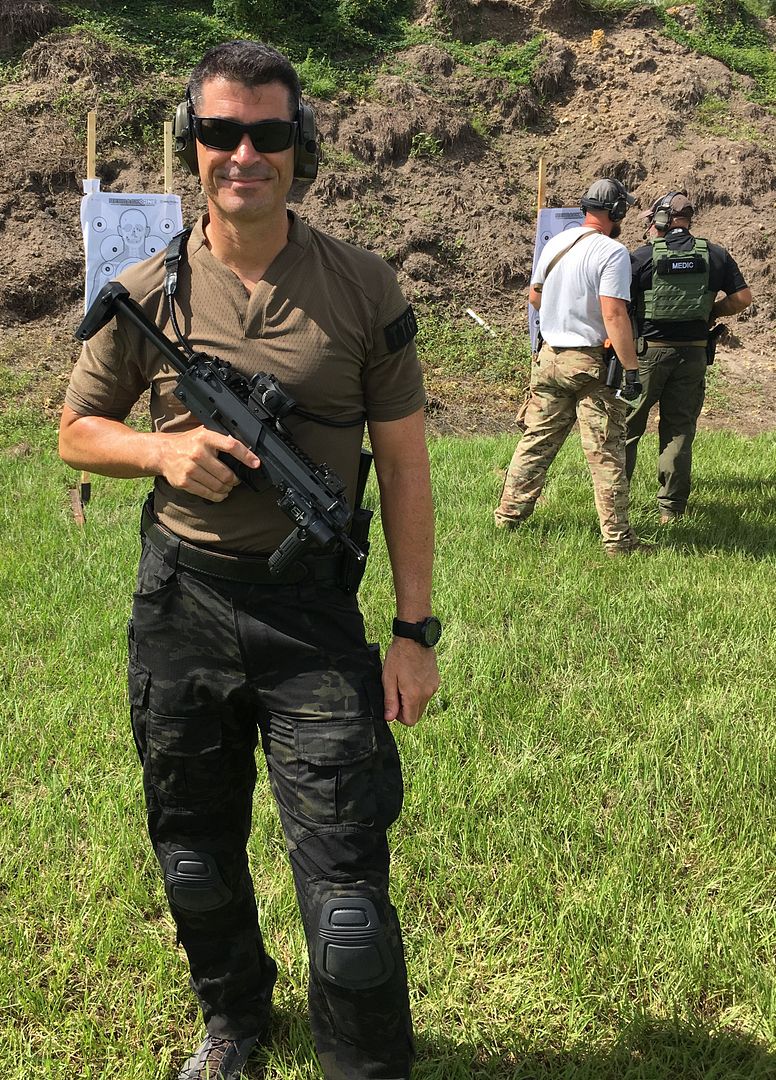 Did I mention how smoking hot and humid it was? When we had a break at one point on day two, I looked over at Ben and noticed that he had a very unique "moisture pattern" going on. Though I made a quick sweep across the rest of the students, I did not see anyone else with a similar issue. Of course, Ben responded, "I sweat a lot", but I think he pissed his pants. You be the judge!
I'm confident that none of us wanted the training to end, but all good things must. We did so with an individual skill proficiency test. Though not everyone shot it clean or made the tight time requirement, we all proved that we had made significant improvement in an extremely compressed time period and displayed proficiency with the desired techniques.
As tradition required, after the graduation certificates were handed out, I had the honor of presenting Jason with our class gift, which since I did not know the students beforehand and due to the long hours of the course itself, had to pre-plan and bring with me ahead of time. Working with my friend Ben, of TFR Operations, I had two pint glasses made with Jason's company logos on each side. And with a good amount of ribbing on his Australian heritage, we presented him with two pints of Foster's Bitter Beer (apparently, "Foster's is Australian for Beer") and a gift certificate for a free Blooming Onion at Outback Steakhouse. Jason took it well!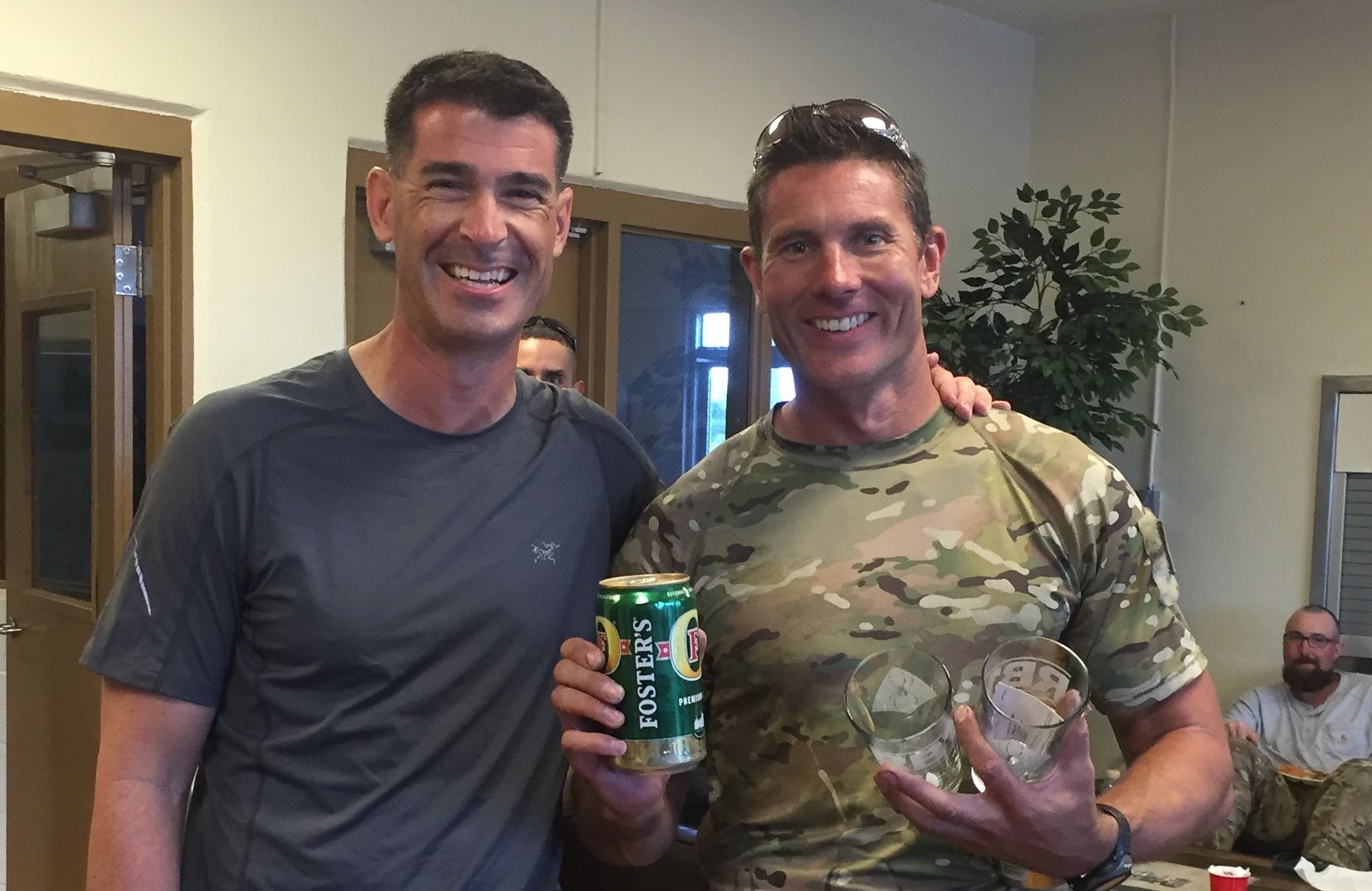 Though I purposely did not provide detail into the specifics of the instruction provided, my hope is that those reading this will see the value that training like this provides. We all have excuses for why we would fail to make that commitment. I know that life gets busy. Hell, I've got a wife, seven kids, a Marine Corps career and a business, all competing for my attention and time. Yet, besides my own personal training, I still get out there and make the commitment to attend, as a student, at least two or three other courses per year. Some courses prove to be better, more valuable than others, and some become those that draw me to return again and again. Jason's programs are now on that short list. Yet even in the worst of experiences, I can still find the value in the experience. In all my experiences, I'll find some skills that I'll incorporate, some that I'll discard, and some that I'll put in my "tool kit" to reach back and retrieve if the situation presents itself. These are experiences that you can't replicate by reading a book or watching a YouTube video. You've got to get out there and expose yourself and all your strengths and weaknesses to them.
So, if you've already got a solid base of shooting skills, especially if you're LE/Mil, and are looking for a leader in providing quality, advanced instruction, on a wide variety of skillsets, take time to review Jason's site and then get out there and train!