You may have heard me say it before, but "when you love what you do, it sure doesn't feel like work". I'm extremely grateful to be able to repeat that daily. Besides being able to be wrapping up a career in the Marine Corps and seeing my own company, Teufelshund Tactical, continue to grow, I was recently brought on to serve as an Instructor with Haley Strategic Partners.
If you are already familiar with Haley Strategic, then you know what top rate firearms instruction they provide. If not, then, here is an after action report from our most recent training, conducted at Extreme Tactics and Training Solutions in Waxahachie, Texas. Either way, I'm confident you'll understand why Haley Strategic should be on your list of commitments for training.
Getting there is always part of the adventure and thankfully, I made it through airport security relatively unscathed, if not a few pounds lighter on ammo.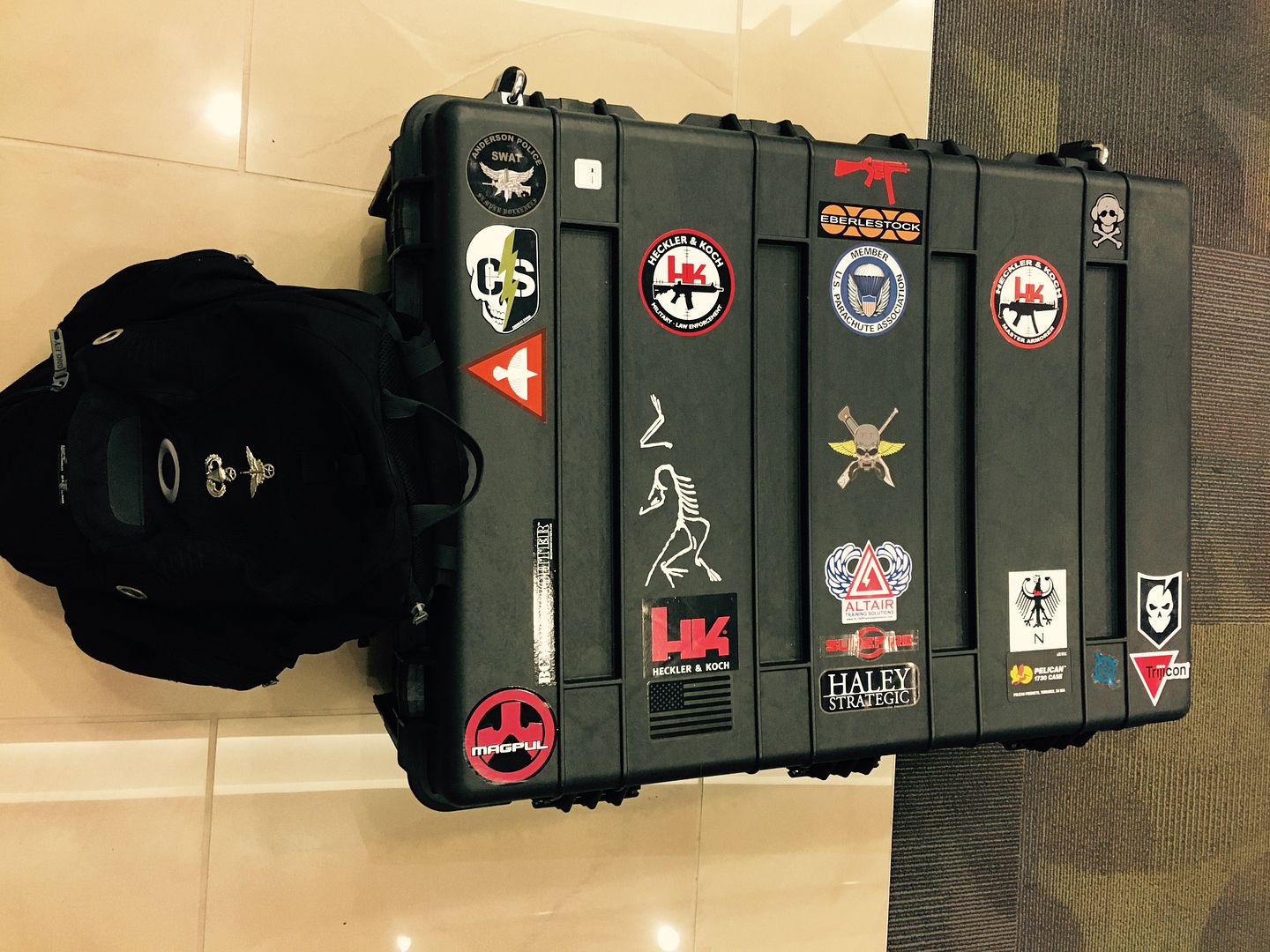 We assembled at the range, where the host provided a converted barn (the range was previously a ranch) for our classroom needs. The students assembled came from all walks of life, men and women, businessmen, doctors, law enforcement officer, military, a couple of husband and wife duos, etc.; all eager to learn and push themselves beyond their comfort zones. Several had attended previous Haley Strategic courses and were back for more.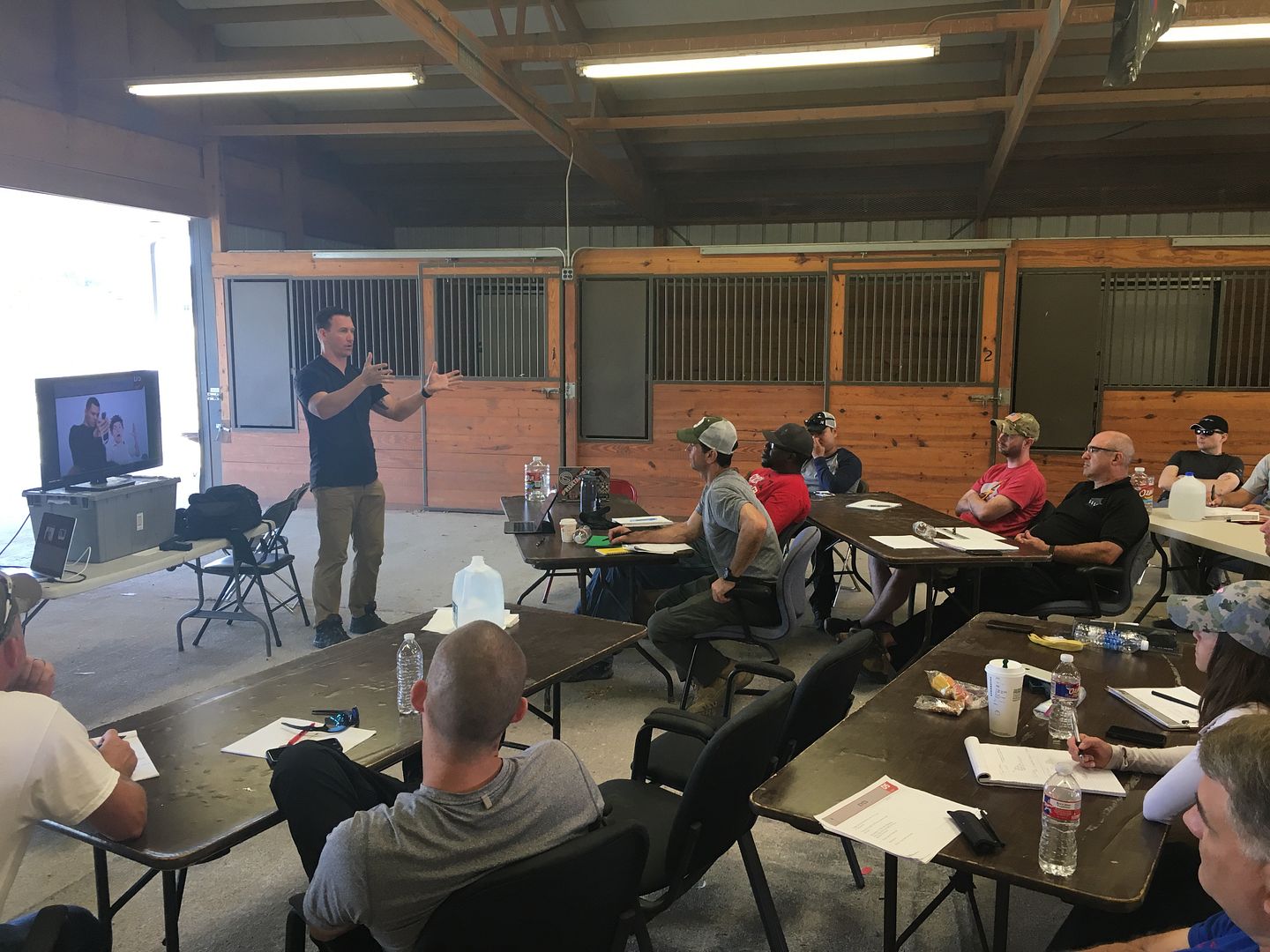 The first class, D5 Handgun, is best described as "the science behind the shooting". With classroom instruction intermixed with range drills, over a period of three days, students are provided an in-depth understanding on how our bodies react to stress and how best to adjust ourselves (body mechanics, eyes, mind) in order to maximize our shooting ability: placing the "thinker before the shooter". It is this specific focus that quickly separates the Haley Strategic training from most others you will find available. Instead of listening to an instructor's preference for shooting style and then shooting his favorite drills, many of which will not show a student any coherent though or progression, Haley Strategic courses are expertly planned; adaptive and progressive.
To give you a better perspective on the level at which we delve into with this training, we did not even cover in the classroom or range, sights or trigger control until day two. Focusing on a proper foundation, stackable skill progression drills and a thorough appreciation for "deliberate practice" quickly raised student performance and confidence.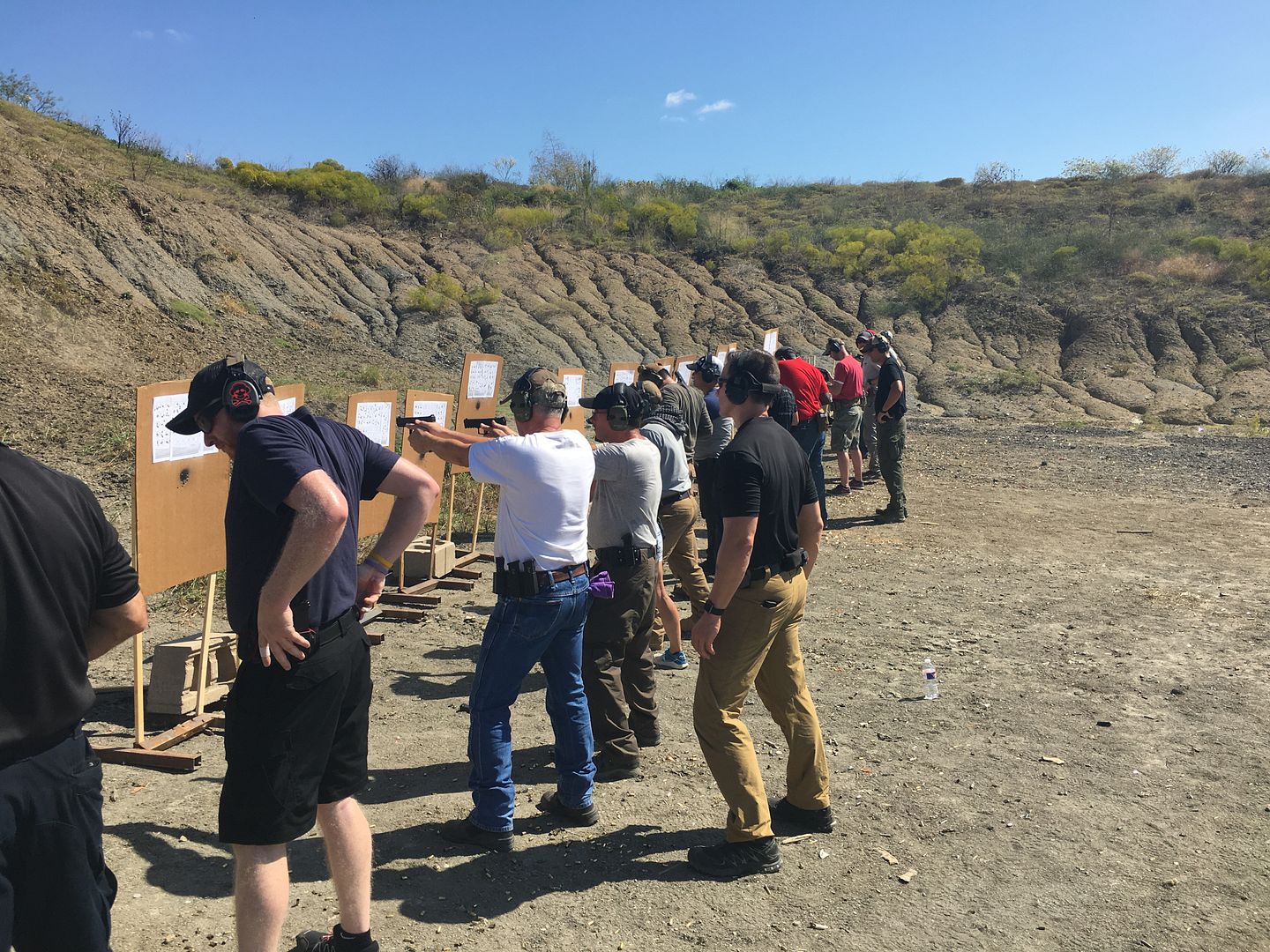 Of course, each drill on the range was preceded with an expert demonstration, so the students could hear and then see what was expected of each of them. Of all the drills, the neuro-muscular timing and "slowing down to speed up" of the draw were clearly the class favorites.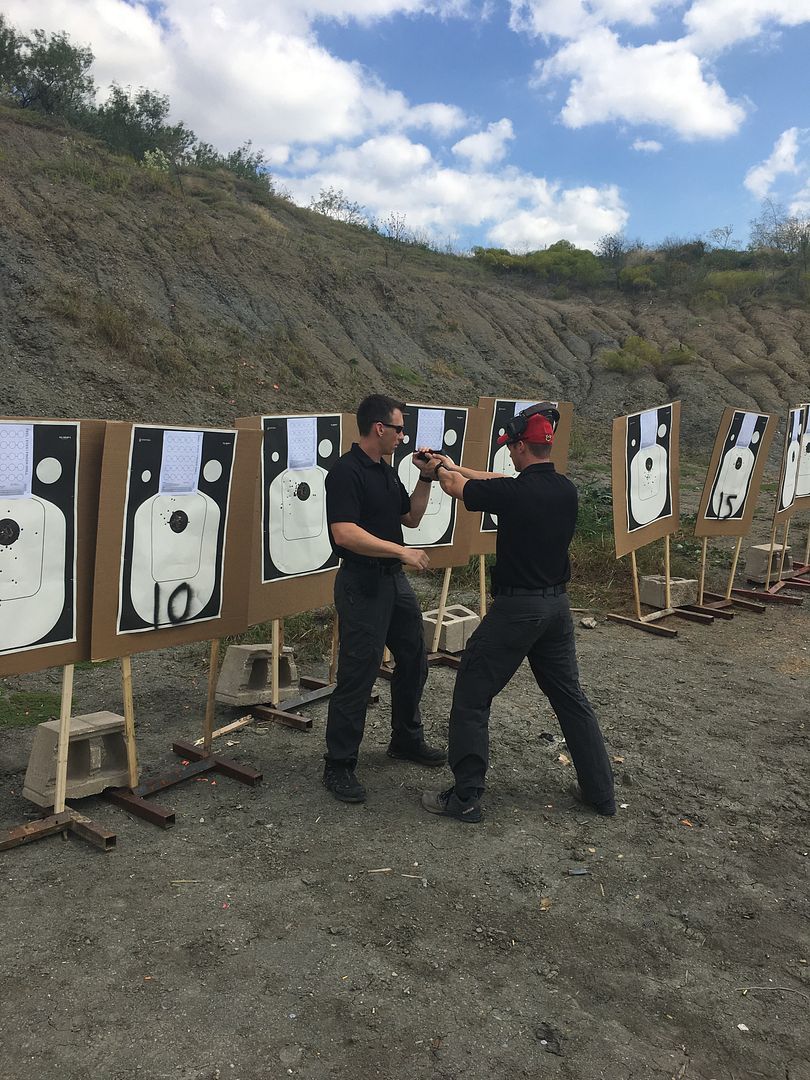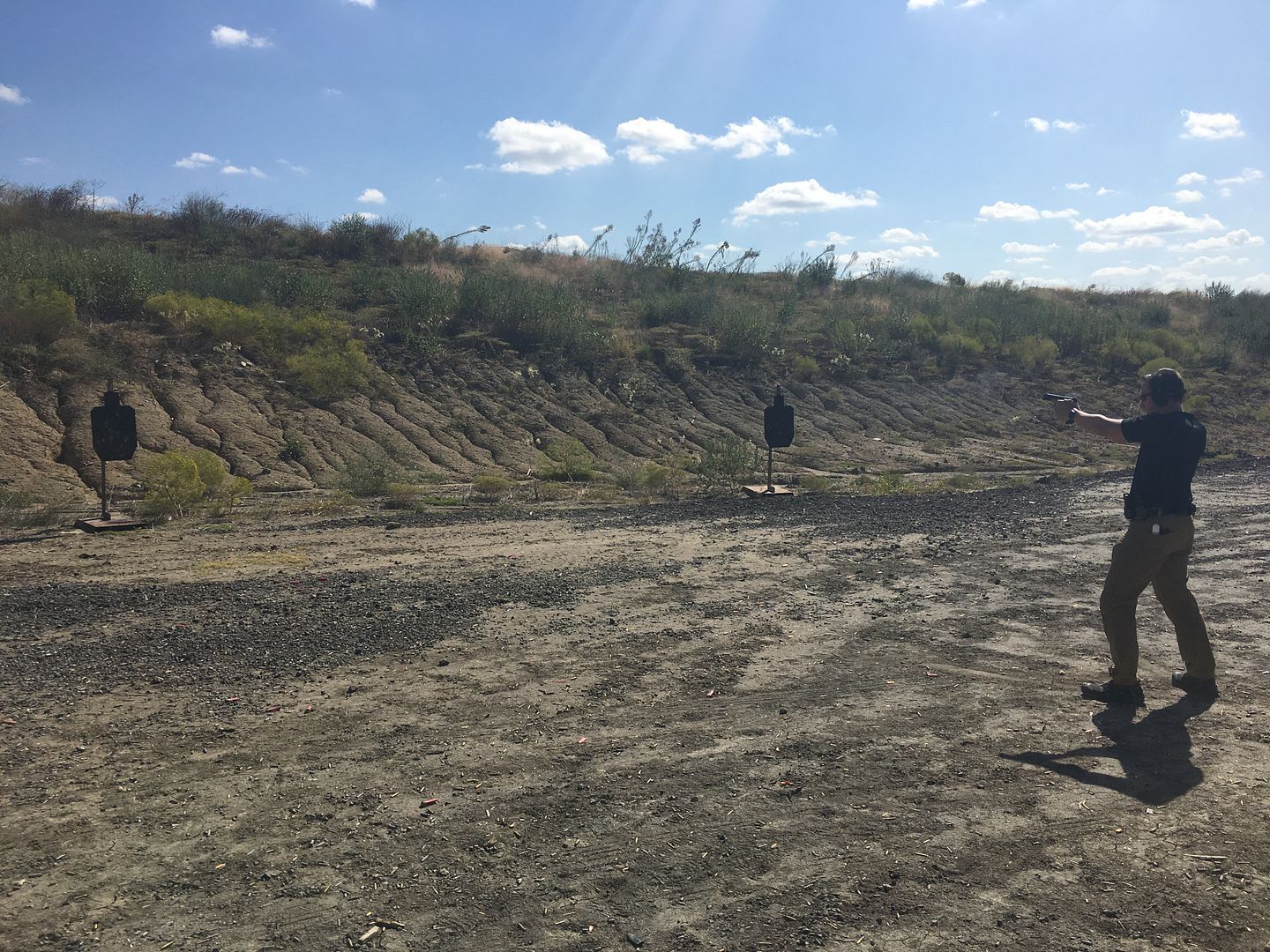 Having the ability to provide immediate, supportive and succinct feedback to each of the students also separates Haley Strategic courses from the competition. Time and time again, the well-timed observation, comment or "light comes on" reference is exactly what a student needs to break through a barrier they have been facing in their shooting progression.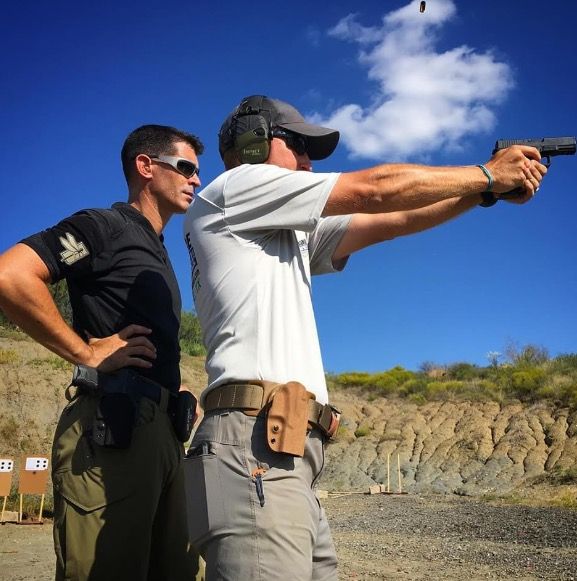 Three days went buy far too fast, but we were excited to see, during the class debrief, that not only had the goals the students came into the training with been accomplished, but the experience had provided them new goals and an understanding of the process to approach, through deliberate practice, in order to reach those too.
The following day, the Haley Strategic Staff assembled again, to begin the D3 Carbine Vehicle Darkness Course. Though a few of the students from the D5 Handgun Course carried over, the majority of this class was of a higher experience level, especially when relating to carbine training. We also saw, as expected, a heavier mil/LE background.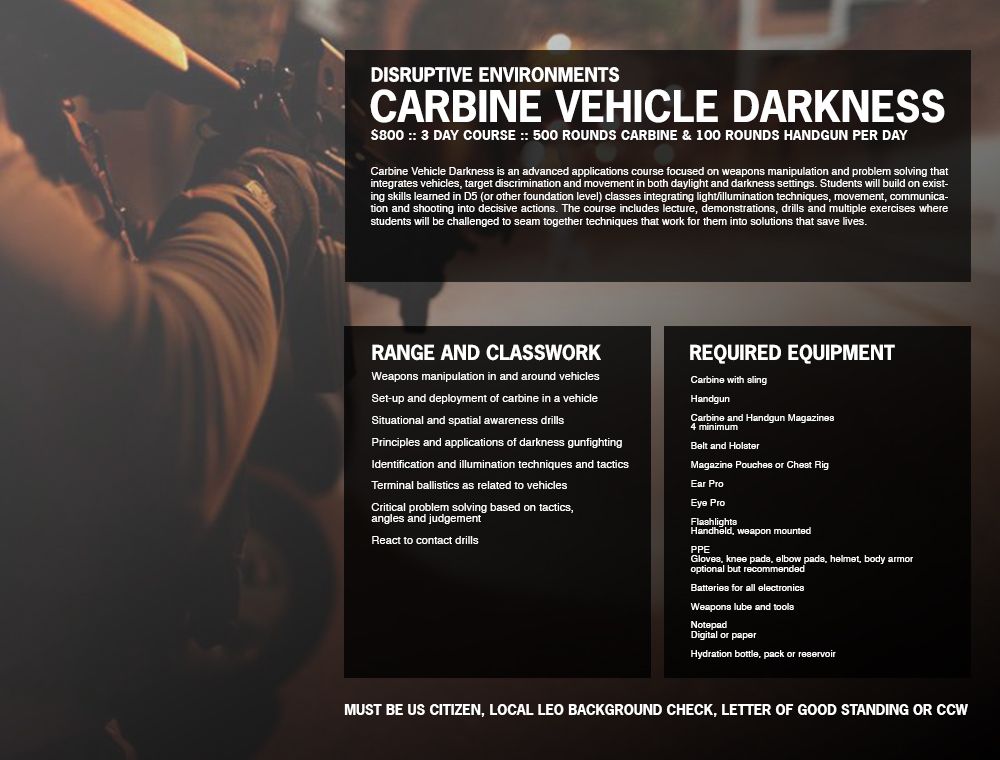 The D3 Courses (Handgun and Carbine) are much more focused on range work and fast-paced. In order to meet the night requirements, we began later in the day and ran until almost midnight for each day of training. Presentation drills, malfunctions, reloads, transitions, movement and work around, in and through vehicles and barriers were all demonstrated and then conducted during the day before running the similar drills again at night.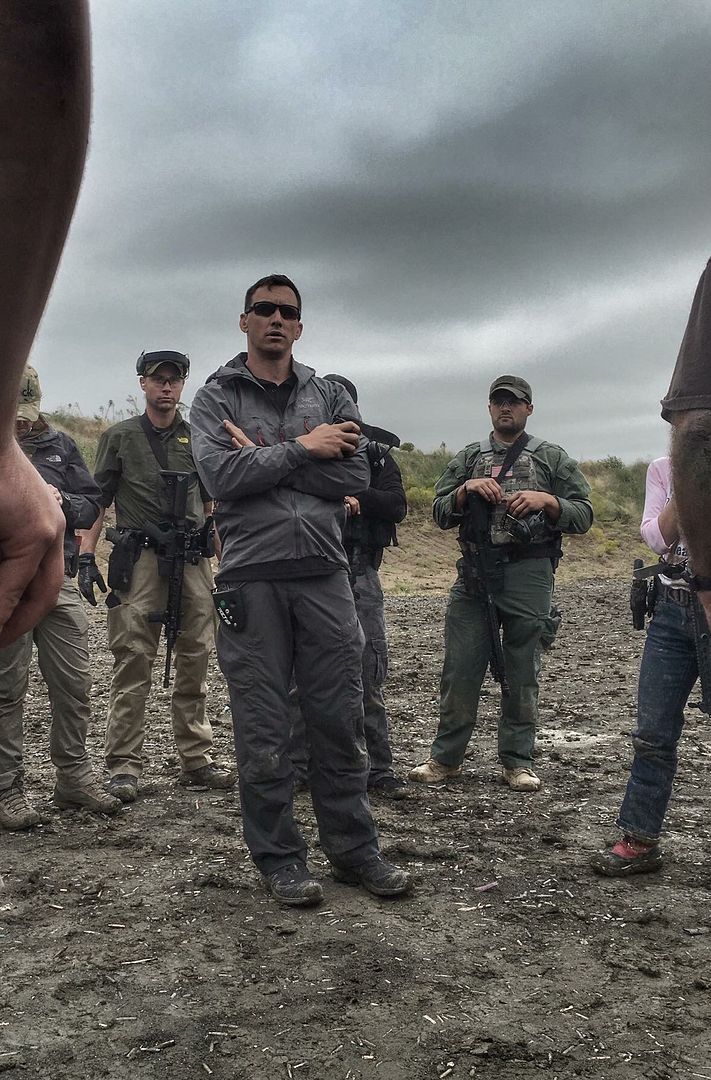 Often, students are often a bit discouraged with their performance at the beginning of Day One; a clear sign of gaps in their current proficiency. But again through the support of the staff and the course design, they quickly build confidence and skill progression. One of the most challenging concepts for students during D3 remains properly incorporating weapons and lights together. We were able to help them with different hand-held and weapon mounted techniques, as well as positioning and even product recommendations.
Understanding how to properly utilize cover, via barriers and cars, both day and night, was covered in-depth and students were provided multiple opportunities to run through a series of drills both individually and as a team.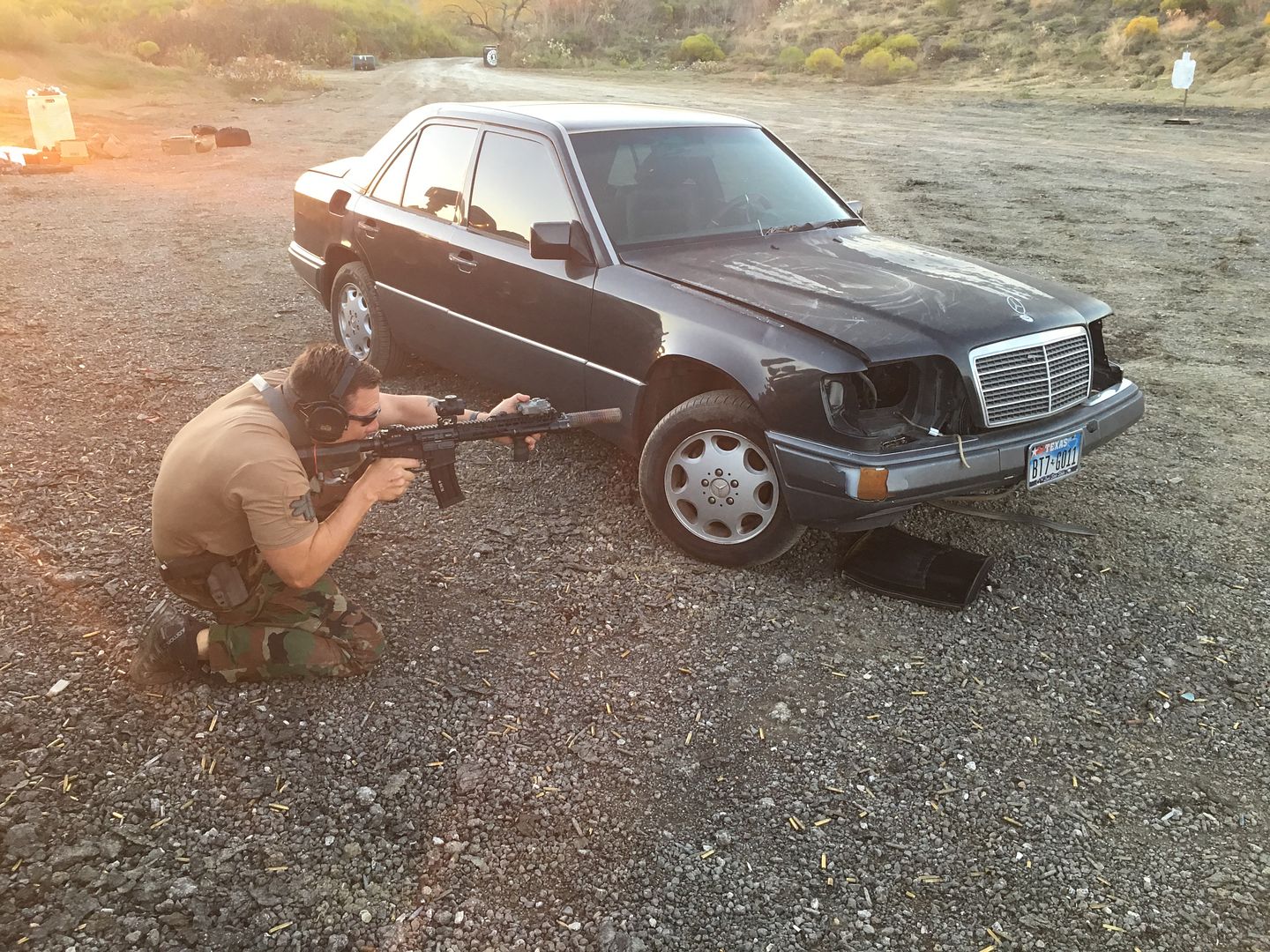 Another class favorite was the ballistics testing, which showed how different types of handgun and carbine bullets performed through vehicle bodies and windshields.
One of the personal highlights for me was getting to meet Colion Noir, from social media fame and his work promoting gun rights through the NRA. I had heard he was a H&K fan, but I did not know how deep that desire ran until we met. He was running a MR556A1 that he had SBR'd and took immediate notice of the HK416, MP7A1 and VP9 I had brought with me. In between drills, I found him to be incredibly humble, motivated and eager to learn. All around super gun.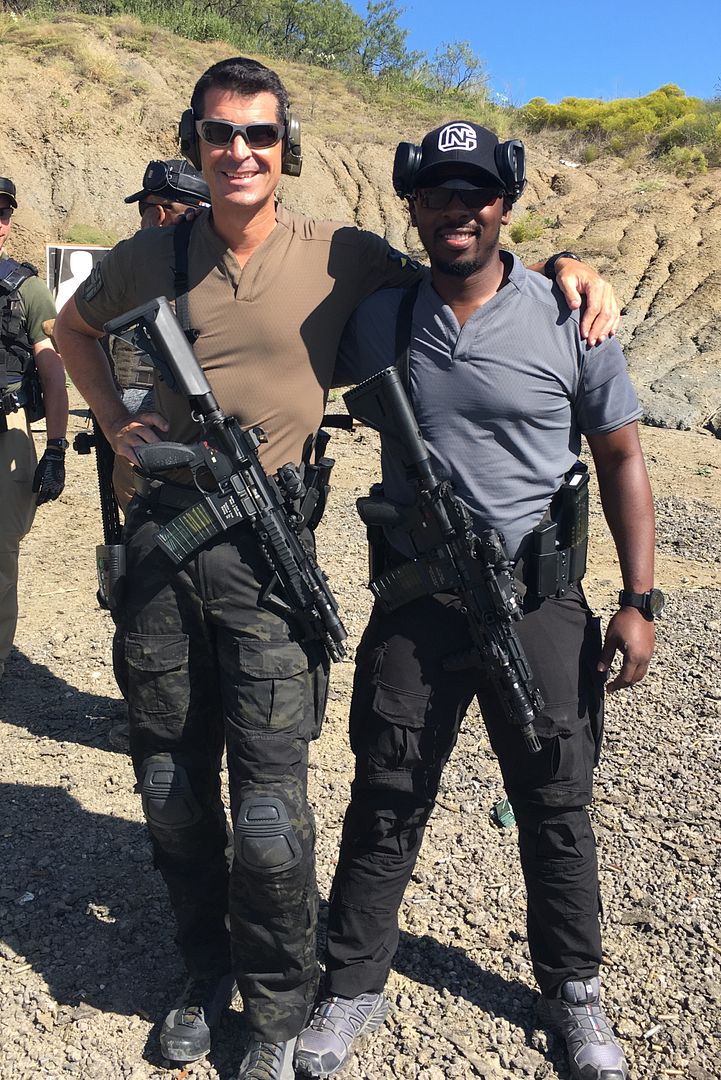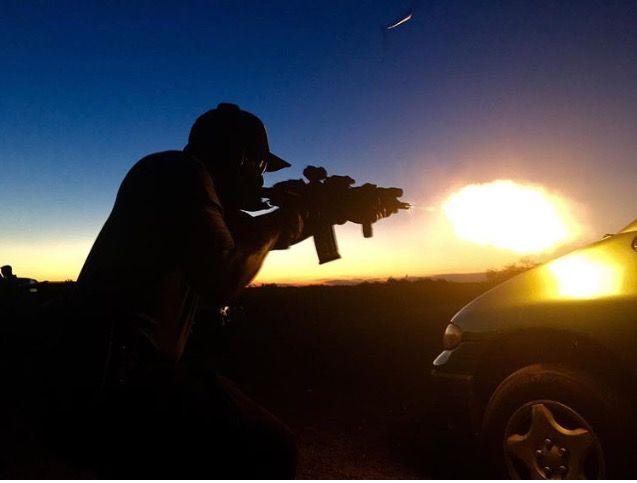 Later in the course, I let him have a go with the MP7A1 and to say he was impressed is an understatement. Then, I handed him the HK416 and after a few mags and a permanent smile, he literally walked off with it, letting me know I might be lucky enough to get it back at the end of the course.
Another personal highlight for me was the video work that Travis and I made time for before training one day. As the MP7A1 is one of the more rare weapons out there, we took time to record a few videos of it in action that I think clearly demonstrate its potential for compact, accurate and high volume of automatic fire. Travis is working to consolidate these all into a future post on his site, but here is one of me unloading on a target.
Video of me with MP7A1:
https://www.youtube.com/watch?v=X6gVoBpJw9E
The final day and night of the D3 Carbine Vehicle Darkness Course was even more fast-paced then the previous, devoted to pushing the class, now working in two-person teams, to their full potential. Sketching out our plans and then arranging the targetry, barriers and vehicles to support it, we set forth to getting after it.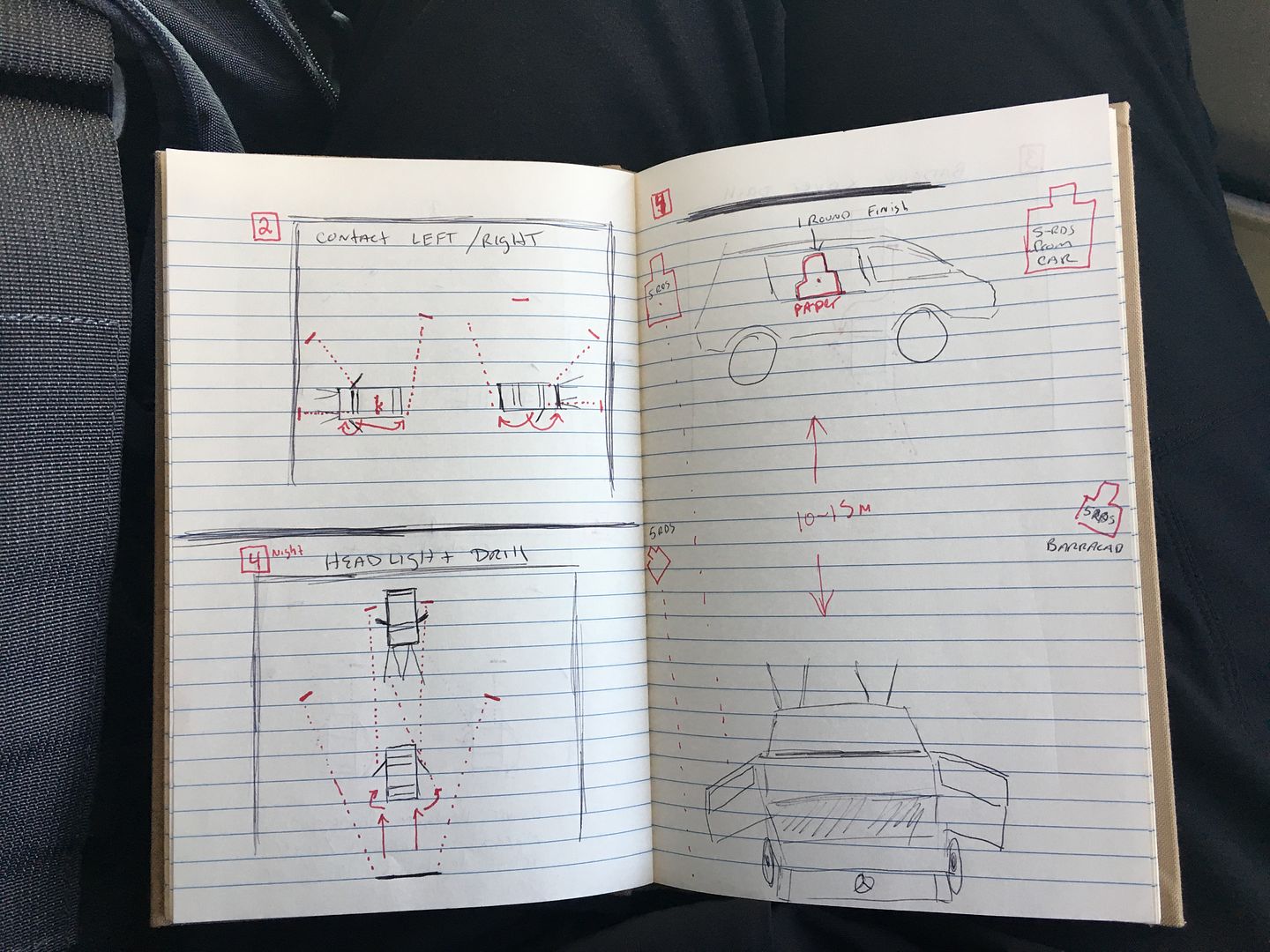 Each drill, added another level of skill, with fire, movement, light work and communication all coming into play.
And as if the students had not had enough fun, we ended the class with one more exciting drill. One of the students had brought with him a 40mm grenade launcher and enough training practice rounds for everyone to have a go. Travis set up a target in the backseat of one of the vehicles we had been using and then we all backed up and were challenged to see who could get closest to hitting the center of the target within, using only the red dot optic on the carbine the grenade launcher was mounted too. Huge fun for everyone, especially the students who has only dreamed of getting the opportunity to fire a weapon like that.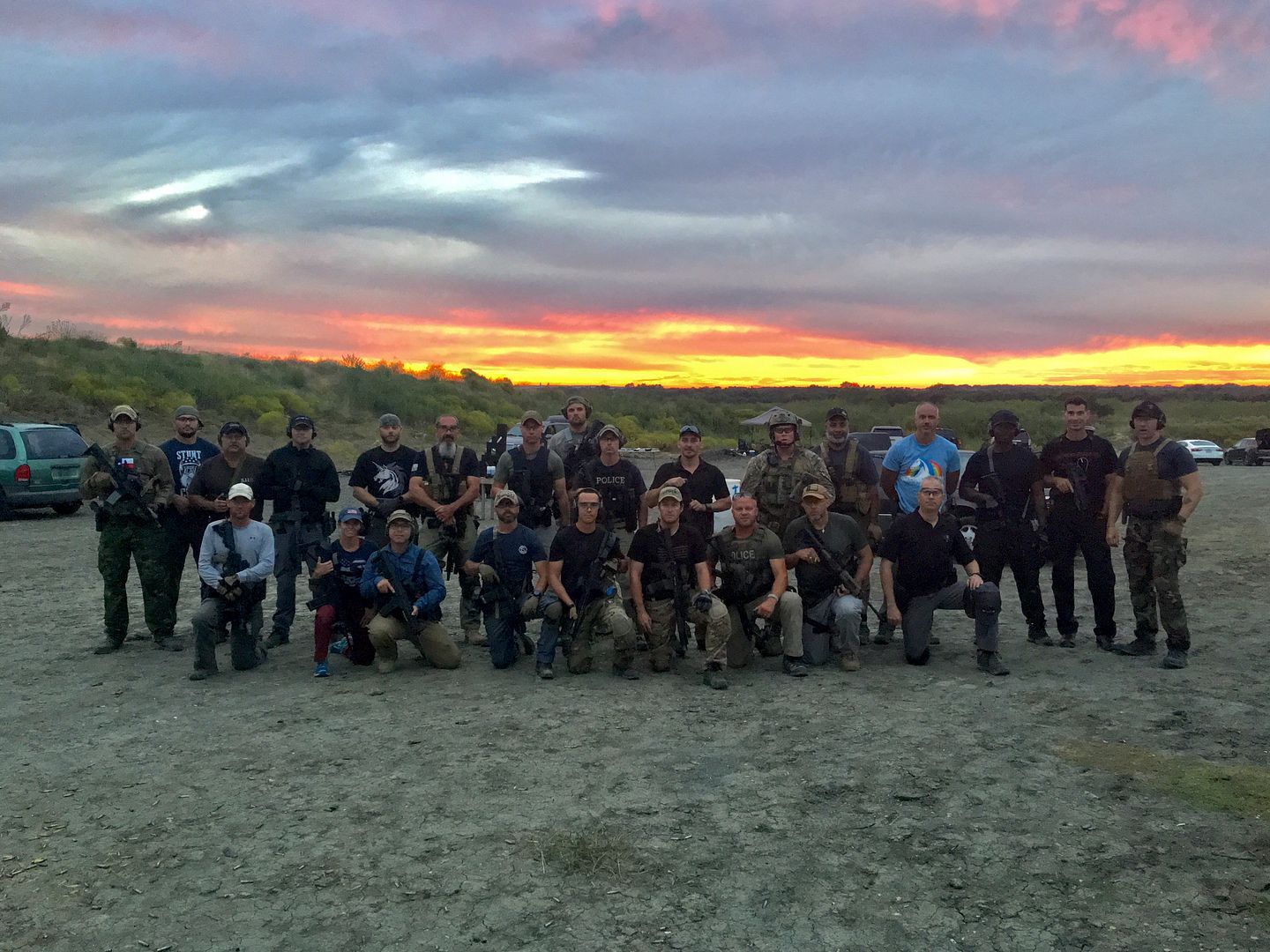 If you've taken the time to read this far, I'm confident that you can appreciate what an excellent training opportunity these classes were. I hope you'll take it a step further though and take a moment to take an honest look at yourself. How proficient are you with your handgun and carbine? How about with a hand-held or weapon-mounted light? Have you been looking for a quality source for training that is truly focused on the individual first, and how to interact best with your weapon? Wouldn't you like to do it with like minded guys and gals and a supportive and adaptive staff? It's a commitment, I know. It takes time away from work, family, and all the other obligations and excuses we allow to exist. Yet, training like this is a rare thing, even as flooded as the market is these days. Take a look at what Haley Strategic has to offer you by visiting their site:
Haley Strategic
I look forward to seeing you at a future course.
Great appreciation to all of the students that we were able to work with, share the knowledge and see crush their goals and expectations.
And of course, many thanks to Travis for allowing me to be part of the Haley Strategic team. It's an honor and a privilege.