Discussion Starter
·
#1
·
Fellas, all I have to say about Amy Geissele's new ACT trigger is...awesome. I compared it to two other mil-spec triggers. All three are identical being that they all came from the same supplier. But Bill Geissele really worked his magic on these and comparing them, it was night and day.
Just so I can cut to the testing, if you want more tech spec info, you can download the product specs here
ALG Defense
Packaging was well sorted. Trigger components came completely assembled. Trigger and hammer were separated by a moisture absorbing sheet that seems to keep things lubricated too. It also helps to keep the parts and contact areas from getting dinged up by each other through fulfillment and shipping.
At first comparison, the ACT parts feel super slick vs. the standard mil-spec kits. Bill Nickel-Boron plated the trigger and Nickel-Teflon plated the hammer. It has tempered Chrome-Moly pins and quality springs. ALG includes a slave pin and grease too. Everything is corrosive free. Pull weight is light for a combat trigger. My friend has the digi trigger weight scale so I was not able to measure it yet, but it does feel like a lighter 5-6 lb pull. Initial pull is so incredibly smooth...and bam. Clean break. There is nothing "squooshy" about it. It's just a great single stage trigger.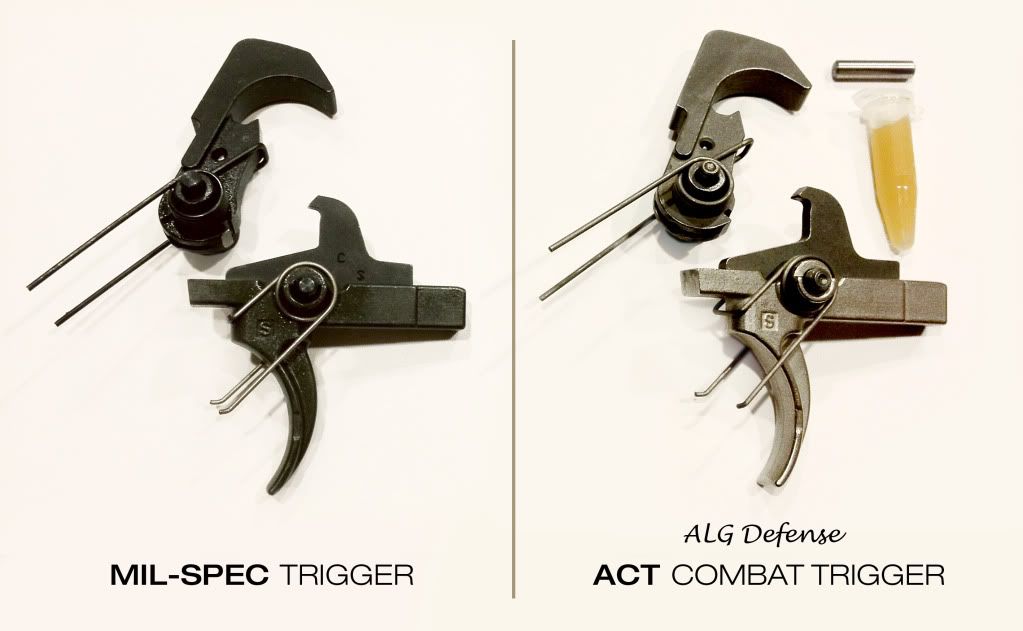 Luckily, my client friends' own a medical district campus that is also home to a police training/firing range. With the help of a SWAT friend and another competitive marksman, we compared my best mil-spec trig group up against the ACT in my 14.5" 416 upper on a semi-auto clone lower. Aimpoint T-1. No muzzle break, just a Surefire FH556. Same Federal ammo used for each shooter. The goal was simply to compare the triggers with rapid fire 5-shot groups.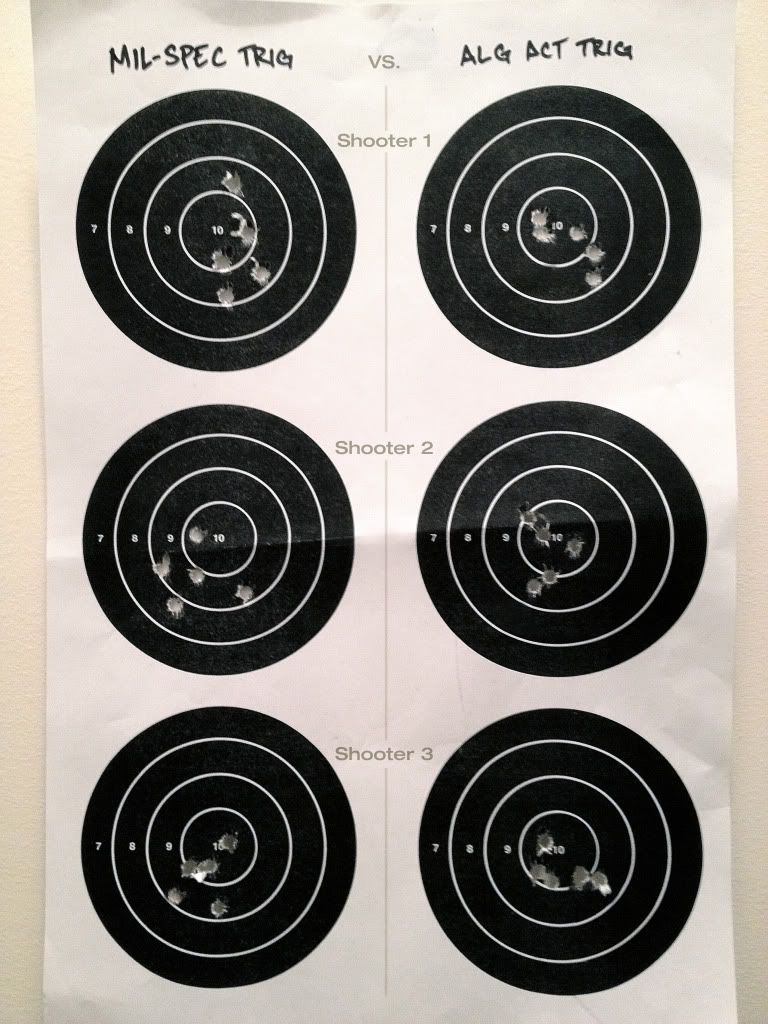 A few other cops wanted at it, mostly because the test host was a 416. But everyone was thoroughly impressed with the ACT triggers smoothness and clean break. They have restrictions for upgrading their duty rifles, but everything about the ACT is mil-spec, so they will be looking to get approval.
It's really is a fun trigger to shoot fast. And @ $65, I can upgrade a few rifles for the price of a higher-end comp trigger. Shoot, I think I already sold some at the PD range.