Discussion Starter
·
#1
·
bought this for my lwrc but I would assume this would work on a 416/mr556. so i figured, i post this up over here for you hk ar platform lefties.
picked one up mainly so my operator could be fully ambi. i shoot lefty so its quite nice. the levers on this thing are HUGE. nice, yet probably too big. makes the springs inside it feel kind of nonexistent because there is soo much leverage (feels normal if you grab it further in as if a reg latch was installed). Overall its a pretty nice charging handle. Worth the $, and I would recommend this to lefty shooters who dont like removing their firing hand to charge. Seems very well built, on par with the bcm gunfighter that came with the spr and MUCH nicer than the milspec that came on my operator.
took a couple pics installed (yea i know she's oily), and a couple side by sides with a magpul 5.56 dummy round for relative size.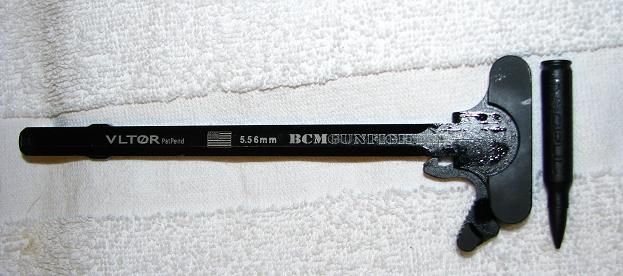 this one shows the ambi features nicely, besides the ambi mag release on the other side