Discussion Starter
·
#1
·
...and DAMN this rifle's beefy :laugh_sma
11lb, 13.6OZ fresh out the box, no mag.
I plan on doing a quite detailed, full review over the course of the coming days and weeks, but here's my initial thoughts so far:
Rifle appears to have been QC'ed and test fired. Manufacture date in January 2017
The rifle shipped in a decent hard case with one suplus mag included. Mag stamped 10/82
The rifle was quite oily, but otherwise the finish was excellent and after tidying up a bit looks pristine. The rifle did come with a Harris Bipod already attached, and a Magpul PRS stock. Being my first experience with a PRS stock, I must say that it's absolutely freaking awesome...although it's a heavy sucker. Feels SUPER tight, and the adjustment knobs to raise the cheekpiece and extend the length of pull are really, really hard to turn at first, but they appear to be loosening up a bit already.
Otherwise the fit and finish look pretty great so far. The welds around the cocking tube are very clean (exceptionally cleaner than a Cetme I used to own), and the mag fits nice and tight in the magwell and locks in solid. The rifle does have the paddle mag release of course.
The handguard is aluminum but also quite beefy itself...it feels extremely solid and quite robust. The barrel does indeed appear to not touch the handguard at all, which is a good omen for accuracy potential I would hope. Tough to see via this picture but there's is a bit of dalylight between the barrel and handguard, and nothing touches the barrel other than the triple frame. The barrel is nicely fluted and looks clean, although the fluting isn't very deep.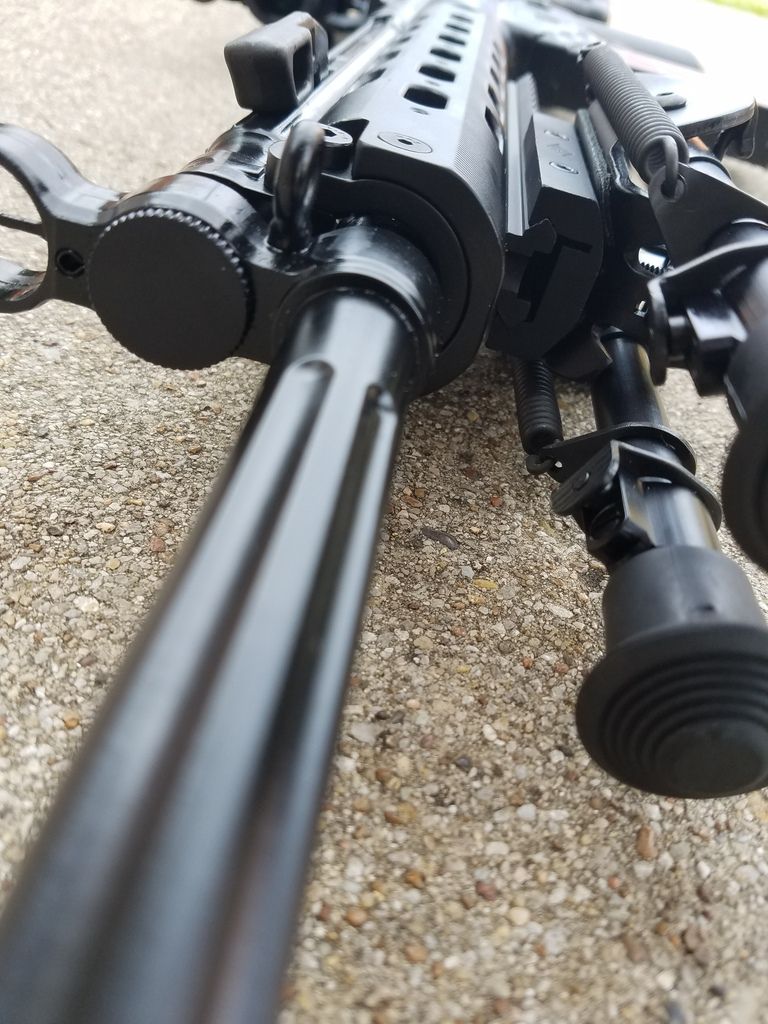 The trigger is definitely nothing to write home about, but I'll describe it as best I can. It's a two stage pull, with a light first stage (about 5mm of travel in this stage), then the second stage is creepy, stacks a bit, then breaks pretty cleany. I don't have a trigger weight gauge, but think of it like a heavier Bren 805 type of pull and you get the idea. Best guess would put the pull weight around 8-10lb range...not ideal for precision shooting and has a very mil-spec feel to it, but it's not the worst trigger I've ever felt, it's not great though.
Yeah, did I mention this bastard is heavy? With the scope, mount, and a loaded 20 round mag, the rifle tipped the scale slightly over 15lbs. Definitely suited for the "Perimeter sniper rifle" or DMR role I would think...
Otherwise the rifle is immaculate, and the nicest PTR I've ever laid eyes on personally. I've got the rifle topped for now with a Primary Arms 1-8x ACSS scope and SWFA SSALT scope mount, and will do some load and accuracy testing. Fortunately this particular scope mount DOES allow you to see through the iron sights, so the setup is actually very nice. I also may run it against my AR-308 build to compare and contrast accuracy and feel just to give it some perspective in the market as well. Here's a preview of what I'll be shooting...
Here's a few glamour shots...