The blue German surplus training ammo is back on the shelves these day's [Currently available at Dan's Ammo
http://www.dansammo.com/
] and for those who have never tried it I thought I would shoot some and see what kind of fun could be had.
Dan also has, the very necessary, G3 training bolt and carrier that is designed to operate with this ammunition. It's available only as a package deal at $299.00 for the bolt and 1000 round case of training ammo. I asked Dan about it when ordering and he said he had no problems having the rifle cycle with it and had even run it in a full auto sear gun. I have always liked the idea of the training stuff for plinking or working with new shooters, on account of its low recoil. It represents an area of surplus rifle and accessory collecting that adds to the fun of shooting historic battle rifles. The G3 22 conversion kit ranks right up there too. See my review here
http://hkpro.com/forum/showthread.php?t=72549
.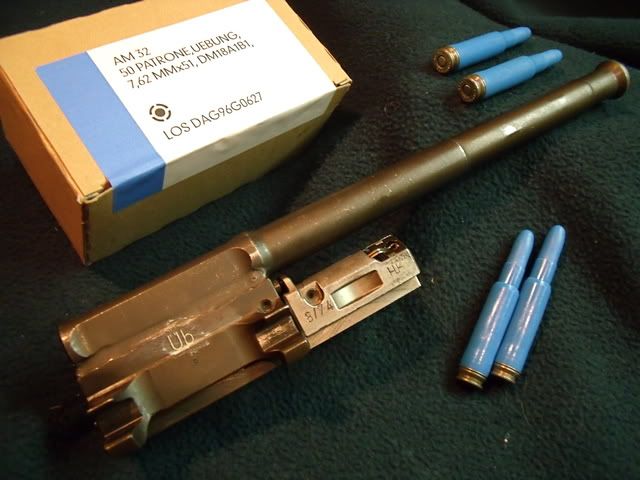 In recent years there have been a few types of surplus training rounds on the market. Not all of it great. Some may remember the Swedish 9mm training ammo with the steel bb that was made for sub gun training and used a special barrel. It didn't seem to offer much plinking fun for handgun shooters because many reported its failure to cycle autos (no surprise) as well as barrel damage from the steel BB bouncing down the barrel. Also on and off the market in the past 4 years has been some 7.62 54R hollow-core training rounds to shoot in Mosins and such. These cartridges had a standard steel case with a lightweight hollow jacketed projectile. I never took one apart to weigh it but it took all the bite out of the M-38 and would still shoot flat at 50- 75 yards ( less so at 100). I would frequently hand out boxes of this stuff at the range when I saw a Parent and child suffering the blast of heavy ball. The kids were always happy. I'm also reminded of the recent Lapua 7.62x39 wood bullet rounds, though that stuff doesn't really count as it was considered a blank and not a training round.
The blue plastic 7.62 x51 training ammo has been on the market before and is now surfacing again. (It just goes to show you how importers have to try to scratch the consumer's ammo itch with whatever they can get). It's unclear if it is newly imported or someone decided that the time and price were right to push it back out to the market again.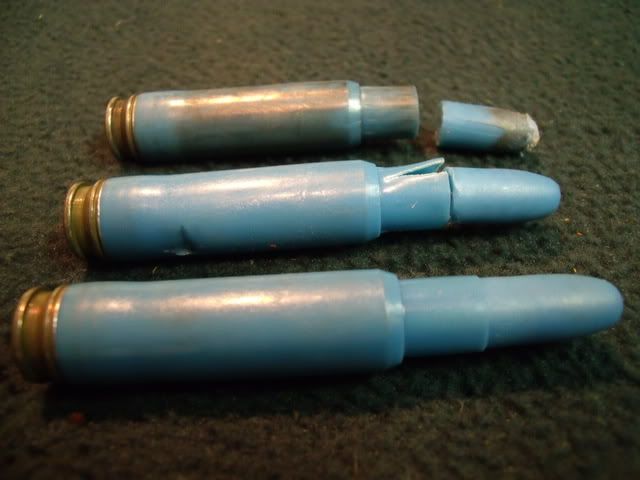 If you see these rounds unboxed they look like dummies made of blue plastic. They are not. This is potentially lethal ammunition. As advertised, it is manufactured by Deutsche Angestellten Gewerkschaft (DAG), of Germany. Each round consists of blue molded case w/ projectile, stick powder and a primed steel case head finishing it off. It appears that the projectile and case are molded in one operation, the powder dropped in and then capped with the primed base. In the process of firing the projectile is literally shot off the 6 sprues and thin web of plastic connecting it to the blue cartridge case.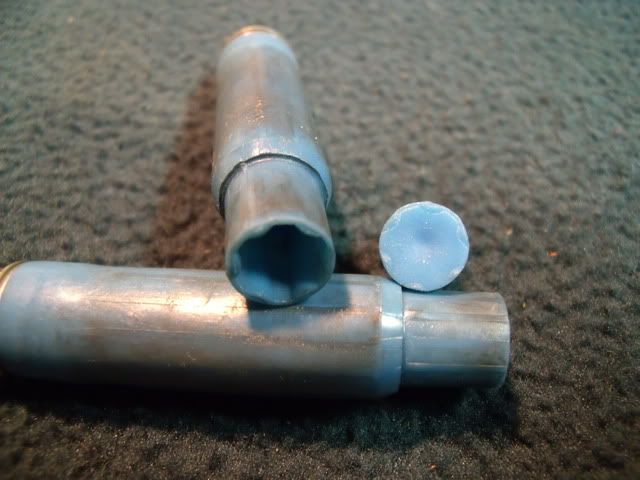 Prior reports of these training rounds clocked it in the 3400 fps range. Many shooters have noted intermittent extraction issues and after a thorough look at the components I can see why. The DAG trainers have a smaller diameter rim.
Dag training round Case head diameter; 11.31mm (.445 in)
7.62.51 Case head diameter 11.92 mm (.469 in)
The case head diameter of the training ammo is approximately .61 mm less than a standard 7.62 NATO round. Correspondingly the bolt face of the training bolt is reduced to accept the training round and seemingly prevent a fully blown 7.62 NATO round from getting close to the firing pin. The slight difference in case head diameter may have a small amount to do with extraction issues in rifles with un-modified bolt designs.
TBC
JR