Discussion Starter
·
#1
·
Hello Folks,
A couple of months ago I was looking at some MR762s deciding on whether to buy one or not. Well now, I have decided its the time to get one or maybe not after seeing what it has morphed into.
Call me a picky eater but, what happened in these couple of months? I'm totally disgusted.
The MR762 Hand guard came from looking like this slick unique battle rifle that screams HK Military Quality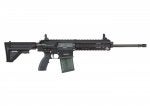 Then now the new hand guard makes a it look like some glorified cheap-o off the shelf AR-10 in the back of Big 5 Sporting goods
Besides the cosmetic appeal, with the new hand guard you loose the picatinny quad rail functionality and makes it more bulky.
Why did HK change do this?
Is there an option where you can purchase the gun with the original hand guard?
I am really not looking forward to dropping $500+ on the original hand guard...
https://www.hkparts.net/shop/pc/HK-MR762-Picatinny-Quad-Rail-Handguard-Complete-360p16629.htm
Thanks in advance,
Regards