So I've been doing some upgrading since just before Christmas. I'd consider them to be pretty much my essentials. Here's what all I've done:
HK Parts Enhanced Slide Cap (Black)
HK Parts Support Sleeve (Red)
HK Parts Ultra-Match Spring Set (Not pictured below)
Lobos Industries VP9 Type 1 Trigger (Graphite w/ Red shoe)
Trijicon HD Hi-Viz Night Sights (holy crap the rear sight is all kinds of sharp!)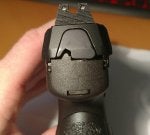 And of course I had to have a nice holster to go with her, so here's one of my own design:
She shoots amazing so far, I'll have a range report up this afternoon with the new trigger in (I just installed it a few minutes ago).