UPDATE: 11.21.2012

If anyone else would like to order a Geissele 762 SSA trigger, please place any orders through their website moving forward. Please note, Bill said there maybe a price increase moving forward this December.

Geissele Automatics - Quality Triggers for the Warfighter and Competitor - HK Triggers


I'll also keep you all posted with production of the HK417/MR762 15" modular rail.
–––––––––––––––––––––––––––––––––
I'm extremely excited about these options for the MR762 folks...
1) Geissele MR762 modular rail system. Similar to the Geissele HK416 mod rail, their first MR762 rail will be a 15" system. Plenty of real estate. I assume the colors will also be black or sand. Price TBD.
2) Geissele MR762 SA trigger based off the SF HK417 trigger. $375
The MR762 trigger is a different trigger assembly from the 416/556 with a different hammer. And MR762 also has a larger diameter pin that is an odd size. They will have these triggers ready somewhat shortly. Bill said they already have all the base components, they just have to edm and assemble.
Once the rails are ready, they will hook you up with either rail or trigger, or both.
DIRECTIVES:
1) Post if you want a rail, a trigger or both.
2) PM me your full name, phone # and email.
3) I'll submit the list in a couple weeks
4) Bill and crew will contact you to let you know that they have your order ready for payment.
------
As always, trigger looks great. And it's beautifully labeled HK417.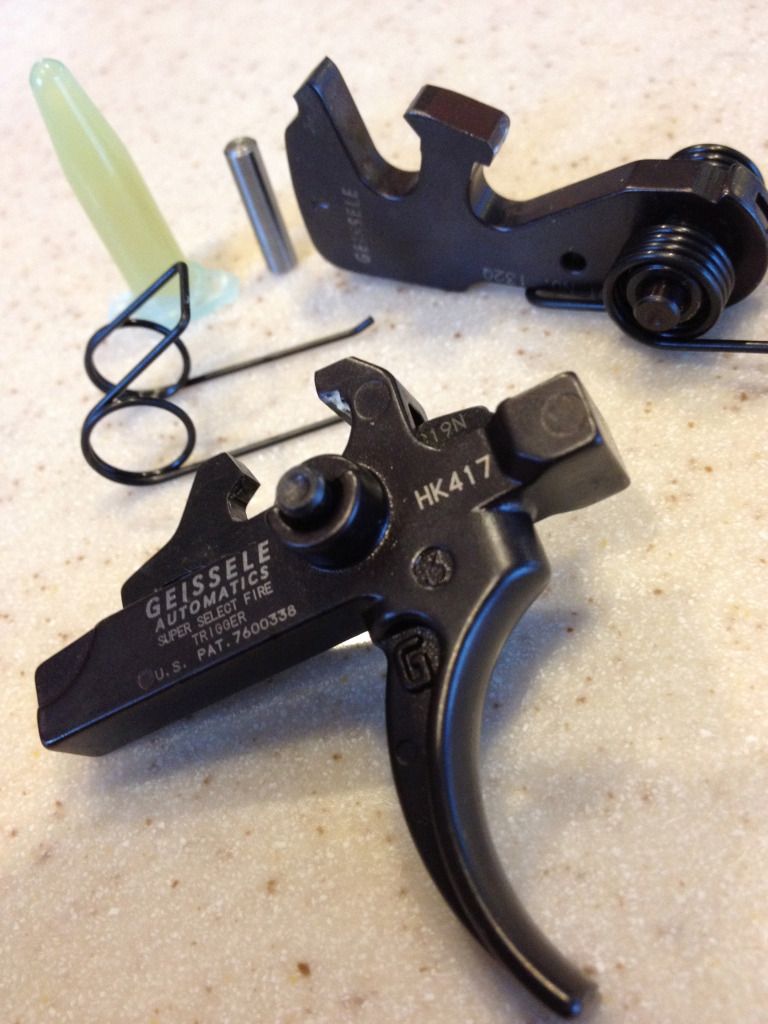 Just got this in, but I'm sure these will get relabeled.
Install went smoothly. Just make sure you follow the directions. The pins are captive, but the trigger pin needs to be installed a certain way, so pay extra attention to that.
I did a couple quick videos for comparison...
Factory MR762 trigger:
Initial pull isn't so bad. For me, the second stage pull is creepy and long...
IMG_2779.mp4 video by HKforFREEDOM | Photobucket
Geissele HK417 SSA trigger:
Just like the their HK416 SSA, it's light, smooth with a crisp, clean break...
IMG_2776.mp4 video by HKforFREEDOM | Photobucket