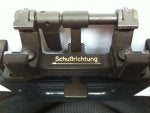 Hi.
Been around this forum for some time now but never taken part in any threads. As I live in Europe its hard to get hold of spare parts for mp5s. Does someone here know a good source for that in Europe?
My next question is about my H&K operational briefcase(2nd Gen) I´m about to sell. It once belonged to a German SEK(Special police unit) before I got hold of it. I´m selling it to get money for my new H&K project:wink: that is getting a bit to expensive. I suppose there are no problems exporting it to the US as it does´t count as a firearm? But were to sell it? I do have an account on Gun Broker but is that the right place?
Any suggestions appreciated.
/Fred
http://www.hkpro.com/forum/hk-nfa-talk/85552-help-iding-hk-mp5k-briefcase-pic-size-warning.html