Discussion Starter
·
#1
·
Picked up my P30 yesterday from EmanP on the boards and took it straight to the range, initial impressions were that the guns ergonomics are probably the best Ive felt, I used to own a M&P which was awesome, but I love being able to switch the side panels also. After the range I decided to go with the medium backstrap and small side panels, more of a 1911 grip with a humped MSH.
Trigger I thought was pretty good, very similar to the USPc 45 I had, if not a little bit better. Not as good as the Sigs/1911s Ive owned but good none the less.
I love the new design of the magazine release, much easier to hit it with my trigger finger than the USP which would mess my finger up pretty good by the end of the match, Ive messed around in some reloading drills and found it to be easier than any other gun Ive used.
I havent shot a handgun in a good 5-6 months so I had to shake some rust off when I got to the range and got a decent grouping towards the end of my session. Ran 200 rounds of WWB through it with zero malfunctions.
Now I just need another mag and a holster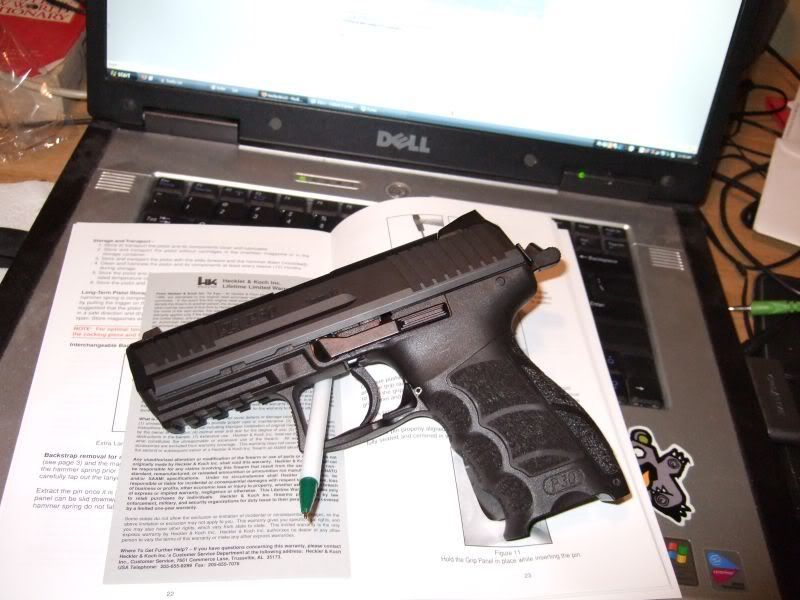 7 yards, off hand, I would guess about 12-15 rounds.