I was able to take advantage of a mild, sunny day here in IL and I put about 200 rounds of Win 230gr FMJ through my newly acquired HK 45 Variant 9 (no decocker).
Here she is after the session:
My Initial Impression (before shooting):
I purchased this pistol already having a great deal of respect for the USP pistol. The USP; however, just was not a good fit for me. I liked the idea that the variant 9 could be carried "cocked and locked" like with the 1911 platform. In the past, I was met with disappointment when I tried to find a more duty-worthy alternative to my 1911's in the SAO Sig 220 Match and X-Five. I was somewhat skeptical until I actually handled the HK 45.
Given its size, it felt great in my hands with either backstrap. I ultimately selected the medium. I was very please with the relatively slim grip profile. It is very had to believe that the magazine isn't an true, ultra-thin single stack. I'm not yet fully comfortable with the mag release lever. I either have release the mag with my index finger (which I will not do on principle alone) or rotate the gun in my hand to allow my thumb to hit the release. I was not thrilled with the glow-in-the dark sights, but I will say that I like the idea for less discriminate shooters who don't want to commit to perishable tritium night sights. And to be honest, I wasn't all that impressed with the trigger pull in single action as it felt a little gritty and had some overtravel. Also, I was finding that my trigger finger was rubbing the mag release lever as well.
RANGE SESSION:
Since I don't have a proper holster at this point, I was forced to use an old universal drop-leg. Thus, all drills were conducted from the low-hunt/ready position. I started off with a walk-back drill beginning at the 4 yard line. I fired a controlled pair at an 8"x 13" center mass paper. After each pair, I took a big step backward. I repeated this process until I ran dry and conducted a speed load for admin purposes and re-holstered. The first mag was shot at distances of 4y progressing to about 12y. Here are the first 10 rounds: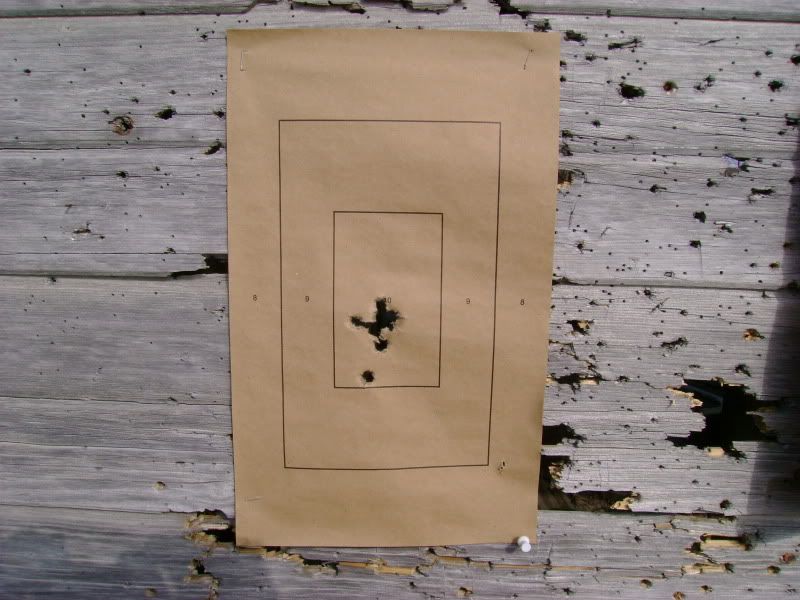 Here are the next 10 rounds ranging from 13 yards to 22 yards approximately:
The third mag from 24 yards to about 32 yards:
I then went back to about 45 yards and fired 5 rounds (standing) on a clean sheet (no time restraint):
After reloading my mags, I went back to about 9 yards and did several failure drills (2 to cm, 1 to head). I used an empty ammo box to represent the head (as this is a half-assed range session). I believe there were 7 or 8 string of fire total. I tried to work quickly and get all rounds off in under 2 seconds.
For my last string of fire for the day, I used a 12" diameter steel gong. I fired 10 rounds each at 60y, 75y and 100y. I also fired 5 rounds at 120y. I was not operating under any constraints and was only trying to make hits. I went 8/10 at 60y. 7/10 at 75 yards. 4/10 at 100y. I was 1 for 5 at 120y. I normally do this drill with a steel ipsc silhouette, but as I stated earlier, this was just to get a taste for the pistol.
MY FINAL IMPRESSIONS:
I am very pleased with what the pistol can do. I mostly operated in SA mode and worked the safety like with a 1911; so much so that I caught myself taking the gun off safe to chamber a round and then re-applying the safety (as with a 1911). The safety manipulation is an easy transition for anyone used to running a 1911 thumb safety. I had no issues with the trigger once I actually got out and ran the gun. If I had to rank trigger pulls from 1 to 10 with a 10 being a tuned 1911, the HK 45 comes in at about a 7 out of 10. I would put the DA trigger pull at about a 3 with a stock Glock trigger being about a 3.5 or 4.
I will most definitely be replacing the sights with some Heinie Straight-8's. The sharper lines on the sight edges will definitely add to the effectiveness of this weapon.
I also didn't mind only having 10+1 round capacity. If I were to carry this gun on duty, I would probably opt for 3 extra mags rather than 2. In the end, that yields me 4 more rounds than a USP w/ 2 extra mags, so I guess I come out on top.
All of my reloads were conducted at full speed. It will take some time to master mag release. I was very pleased with the slide stop/release when I used it during the reload (instead of the slide grab method).
Coming from a hardcore 1911 guy, the HK45 is a breath of fresh air. After having to worry about every pin and spring, its nice to have a weapon that has shootability near that of a 1911 with a maintenance and price level closer to that of a Glock. The HK 45 has my endorsement.