I checked with one distributor and they have 10 HK45 models in stock, #745001-A5. Sales rep provided the serial #s and they all begin with 126, so these should be German made/marked. One arrives tomorrow afternoon and I will confirm as to German.
Confirmed!! Label states made in German. Slide has German markings. available to be ordered
label
slide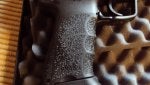 grip
If anyone wants one you can order thru my web site.
$983.50 + $7 shipping/insurance.
Also available, #745031-A5 HK45c V1 serial # starts with 128-xxxxx, stag horn/DE on slide $983.50 available to be ordered
Mike