Anyone here have a new in box HK45 or HK45C?
Reason I'm asking is because I'm currently considering buying an HK45C that the seller claims is NIB. I wanted a German full size HK45 so my only other HK was purchased used, I don't have anything to compare the sellers alleged "new in box" HK45C to.
I live in California, the stupid handgun roster keeps us from having off roster handguns shipped in or purchasing them at a local FFL unless we are roster exempt(LEO) or have an immediate relative that lives outside of CA and that can gift us these off roster guns. Currently our only option is purchasing off roster handguns from people who already own them within the state.
If it wasn't for the stupid roster, I would just buy a NIB one from an FFL.
These are the pictures the seller provided: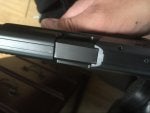 In my opinion, based on the ware at the top of the chamber and the ware on the barrel, it appears that this gun was test fired (25-50 rounds), the original buyer didn't like it and has decided that it is "new in box" wink wink.
What say you?