Hi everyone, I finally got the HK13K (BPP) running great with the sear but the C-Mag has issues. Every round that is fed from the right side hit the top of the barrel.
The rounds look like this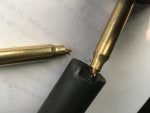 How can i lower the angle the round gets fed?
Anyone an idea what i can do?
Thanks
George
PS. Dunno why the pic is not showing. Click on it and it will show.