How to guide for remarking an HK MR556 to 416
G
one are the days of asking for help and hearing "I have a guy. But I can't say…" I have created this guide in hopes of clearing the silence and confusion surrounding remarking an MR556 or MR762. Before I start, there are many ways to go about doing this. I am merely telling you how I went about it, and some of the things I learned along the way. I will not be giving any legal advice; as the jury is still out on a few of the legal questions. I will also be anodizing my receiver in black; the process is basically the same if you wish to Cerakote or tan anodize. TSC Machine does offer a service that will do the whole process for you, however he only uses Cerakote. I've heard that US Anodizing will do tanodizing but they are usually not accepting new orders.
Brief Heckler & Koch 416 history
The HK416, which was originally designated as the HKM4 until Colt filed a law suit, was born out of the success of HK's product improvement program on England's SA80 and a desire from some "special customers" within USSOCOM who were looking for a reliable M4 style CQB carbine in around the 10" barrel length. These customers, because of the high volume of shooting done prior to and during each deployment, also placed longer service life on major parts as a primary concern.
With HK's success in utilizing the short stroke gas piston in the G36 family of rifles and the knowledge that in short barrel format, the piston operating system is superior to the direct impingement system, they set about modifying Colt M4s. These grew into the first few prototypes, which were then given to the special customers and tested here in the US and then overseas in combat operations. The result was an overwhelming success and has brought us to where we are now, the fifth version of the HK416 which was unveiled in 2012.
Markings:
416 import marks from Germany used to be "Sterling, VA" - and now say "Ashburn, VA". The change came around "2009-2010"
View attachment 238286
Our domestic HK MR556 and MR762 are marked "Columbus, GA"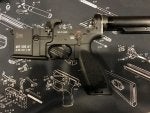 Unit Use for clone builds (speculatively)
Delta has been seen with both the 416D in FDE and the A5
DevGru has only been seen with the 416D
Both have been seen using the 417
NASA SWAT has been using the 416 as well
Remarking the MR556
1. Buy an MR556 rifle or lower receiver (lowers can be found on gunbroker from time to time)
2. Strip down the receiver, you should be able to do most of it yourself but having a gunsmith do it may save you some time and prevent you from breaking stuff. I will provide a link on "MR556 takedown pin removal" (
https://www.hkpro.com/forum/hk416-hk417-hq/153464-mr556-take-down-pin-removal.html
3. You must cover the serial number with tape — per ATF "it is illegal to tamper with original serial." New Frontier Armory requires the original MFG name, MFG city & state and serial number to be on receiver when they receive it. The MR556 comes from the factory with that information engraved on the grip tang, so it should be covered as well
4. Sand/Media/Bead blast the lower receiver. I read that glass bead or aluminum oxide blasting will give you the best results. When sand blasting, sand particles shatter and stick into the aluminum surface and can disrupt the durability of the coating, and also colored parts will come out awkward and greyish in color, some will not take dye at all. I had mine media blasted using aluminum oxide at a local gun manufacture. It shouldn't be hard finding someone to do this. I also plugged some of the holes (Trigger pin holes, takedown pin holes etc.) to prevent tolerance issues.
5. Send the receiver off for anodizing, I used New Frontier Armory. Follow the instructions given on their page. At the time of writing this article cost was $32 with a wait time of 14-21days. **Note: They only do black anodizing**
https://www.newfrontierarmory.com/shop/anodizing-service/
6. Once you get the receiver back, engrave it using the provided files. Again, it shouldn't be too hard to find a place that does this. I had the same company who media blasted it also engrave it. I used matte enamel paint to re infill the selectors.
https://www.dropbox.com/sh/848nx0nf1x1lb96/AAAkTrXJPjxHRaUpFfUlUUtAa
7. Voilà you now have a 416
* Note, I am very happy with how mine came out. As you can probably see in the photo there is a slight divot on the left side where i got alittle over enthusiastic with my sand blasting. (it looks worse in the photo than it actually is)
Legal questions that are still unanswered:
• Unknown whether you must form 1 before or after remarking
• Unknown whether you use original (MR556) model name or "new" remarked model name (416) on the form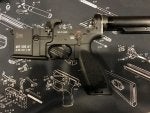 (Before) (After Blasting) (After Anodizing)
(
(Finished)