Discussion Starter
·
#1
·
I picked up a couple
MFI Ultra Low Profile
mounts recently, $100 each at
HK Parts
. Figured I would post some quick pros and cons, tips, and pics.
Pros:
- LOW profile, indeed--lower than the
B&T Low Profile Mounting Rail
.
- Easiest rail to mount, as the claw hooks stay in the mount with some pivot pins, even when you complete unscrew & remove the screws.
- Snugs up well to my
Zenith Z-5P
and
Z-5RS
, so good fit.
- Works with stock Aimpoint Micro T-2 low mount and also works with Bushnell TRS-25 integrated base with
Arms Unlimited QD lever
mod.
Cons:
- Seems a bit more sensitive to overtightening, which can lead to sliding up past the mount nubs and not being secure, so ... don't overtighten.
- Rail is a just a tad wider along with less clearance / distance from the rail and the mount's claw rises, so be careful as some sight bases with tight width clearance or longer length will NOT fit, eg. LaRue LT661 or A.R.M.S. #31 QD mounts were a NOGO for me.
Otherwise and overall, I'm pleased with the mounts. Allows for lowest mounting (for me so far) of an Aimpoint T-2, resulting in lower half co-witness, and for the Bushnell TRS-25 with Arms Unlimited QD lever mod it was absolute co-witness, far as I could tell. For the stock Aimpoint low mount, you need to muscle it on a bit, it is tight, but a little downward tap with a plastic hammer on the mount base seated it no problem. You might want to remove the mount crossbar first and then lineup with the rail slot underneath.
I prefer the Aimpoint over the Bushnell, so that's what I'm leaving on for now. I have a Primary Arms Advanced Micro Dot on the way, which I will try out, too. I'll try to remember to update with how that looks / works. A bit bummed that I can't use either my LaRue or ARMS QD mounts for the Aimpoint, but no biggie.
Here are some pics ...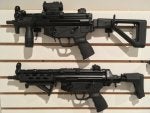 Hope this is informative or helps someone else out!