Discussion Starter
·
#1
·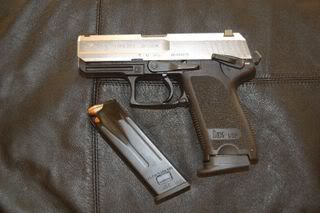 I'm one of those guys who's passion is 1911's and H&K's of all kinds. This is my first new H&K purchase in some years. I've been satisfied with those I have going back to 1985.
When I saw this one in my local gunshop I just had to buy it
You don't see to many compacts in this area of Missouri especially with the stainless slide. I'm a sucker for a two tone gun!
I'm on the M1911 forum a great deal and now that I've found this forum I'll be over here a good bit I imagine.
I have a blog with gun reviews and some personal background information at
http://gunner777.wordpress.com
Phil