P30 Rechargeable Night Sight Pictures
Some folks were asking for some pics of the P30 sights. So here they are.
These pictures were taken with a Canon G1 camera. It is a good digital camera, but it is not an SLR. Meaningful pictures were very hard to take.
Let me explain what they are:
The first pictures that are not in the dark are all taken in the same place, with the same lighting, with the same camera settings. These were not edited in any way so you can get an idea of the intensity. The first picture is right out of the box without charging the sights. The next 2 pictures were taken after charging the sights for 60 seconds in front of a 60-watt light bulb.
The next 3 pictures are taken with charged sights in a very dark room. These pictures would not mean anything, because of camera settings, but to the left of the sights is a watch with tritium hands and dial (even an extra tritium insert on the ring above the 12). This gives you an idea of the charged sights vs the tritium sights.
Sights Not Charged
Sights Charged for 60 Seconds under 60-watt bulb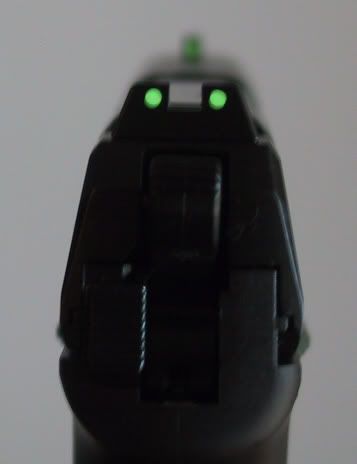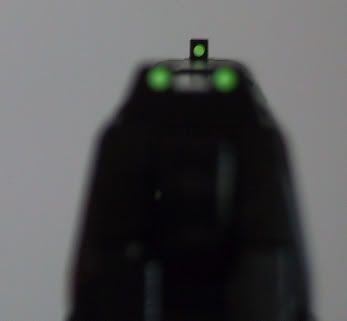 Tritium Watch Next to Charged Sights