Discussion Starter
•
#1
•
Hi all, H&K and forum newb here.
I just wanted to share my experience in case anyone is considering purchasing this, unless I received a defective unit then there is a pretty bad design flaw in it.
That flaw is in the way the device secures to the weapon via a tab on the pic rail. When the rail is screwed down to the compensator, the tab is supposed to slip into the first notch on the gun's rail and lock it in. However, the tab is very short and only clears the compensator body by maybe 1/64" - 1/32" which is not sufficient to secure it against the force of the expanding gas.
As a result, my brand new $160 compensator flew off the end of the pistol on the 4th round, doing a triple bounce off the concrete range floor and taking some nasty dings. It also did some slight damage to the polymer rail on the pistol where it basically ripped itself out.
After reading through comments on some video reviews, apparently I'm not the only person having issues with this device.
Some photos (for the archives):
First installed, happy times.
The poorly designed locking tab: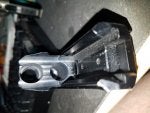 After taking a swan dive onto concrete:
Where it chewed up the polymer frame: