Discussion Starter
·
#1
·
Went to my buddy's place yesterday, which he has set up as a firing range. Took along my PTR91, as almost always I do, as it is my favorite rifle. I had installed the Accushot monopod on the back of the Magpul stock. I also took along the 22 caliber conversion kit as well, for the first time.
The day was spectacular, bright, clear, just fantastic. A little windy perhaps, but not so bad.
At first I started with my new toy, the 22 long rifle conversion kit. It went right in, and locked up perfectly.
I could NOT get the scope adjusted to center the point of impact at any distance, and grew discouraged. After removing the kit, I noticed that the two, small, grub screws on the elevation adjustment of my Hensholdt scope had loosened somewhat and the elevation cam was not moving at all. What a surprise! So, after rezeroing with my 308 loads (more on that later) and snugging down the screws, I resumed the 22 long rifle shoot.
With the elevation knob set two clicks below the 400 meter line, the rifle was right on at 100 meters. The groups were not stellar at about 2 1/2" at 100 meters, but it cycled perfectly with the Remington bulk pack copper plated bullets, and with the much more expensive CCI Velocitors. Neither of these cartridges shot a very good group, however. Perhaps this is an ammo issue, perhaps it is just the nature of the beast, with a subcaliber device. I'll try out some standard velocity target ammo next time out for function, and see if they don't shoot any better.
The Accushot monopod is a really neat contraption. Here is the Magpul stock on my rifle with the monopod extended: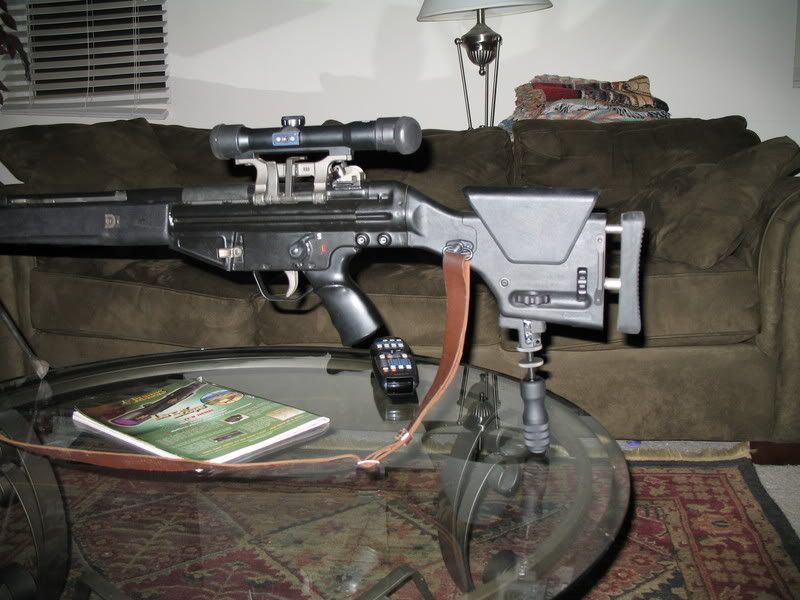 The Accushot monopods come with a number of options available. This one has the option of the button which will instantly disengage the threads so that you can make a coarse adjustment to the elevation setup, and then fine tune it with the threads by turning the knob in or out. This little gizmo is pricey at about $100, but it seems to be somewhat helpful in retaining elevation adjustments. If you get one of them, I would recommend the instant push button option, as screwing it in and out over its entire travel would become tedious very quickly.
As I alluded to earlier, here is the poop on my 308 loads.
My buddy brought a chronograph along, which, if you've ever used one, is an eye opening experience. It is an inexpensive Chrony model which has no memory, so you have to write down each of your shots. I am shooting a load of H4895, Hornady 155 Vmax bullets, old RA 1960's vintage cases, and CCI standard large rifle primers. The loads were right at 2650 fps, but of great interest to me is that the extreme spread for 5 shots was 34 fps! I don't have the statistical formulae in my head to arrive at standard deviation or other information, but I'm very happy with that performance. I knew that the load was accurate to the distances I have shot it (400 meters +/-), but this is a neat numerical confirmation of that fact.
*If you handload, you really ought to consider a chronograph.*
That's it! What a neat rig. Were I to have to part with all of the rest of my rifles, I could do that provided I could keep this one. Now if only I can learn to shoot to the potential of this rifle.