Discussion Starter
·
#1
·
Gentlemen,
Let me introduce myself as primarily a pistol shooter, CCW holder and an IDPA competitor. I am brand new to the world of HK and to this forum.
I have only had my USP 9c for a little over two week and now have 520 rounds through it, and may I say I am really enjoying it.
Here is a short range report of my first impressions of this gun.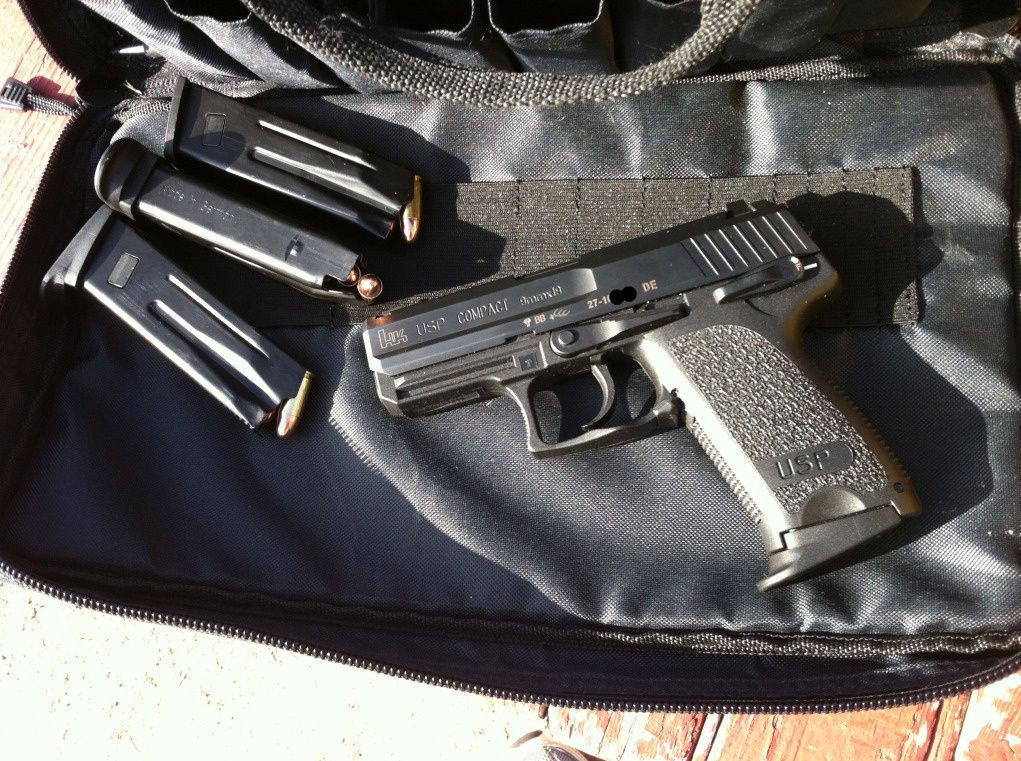 The Gun
Got it home and cleaned it up. The outside of the slide has a beautiful blued finish with no machine or tool marks or burs anywhere. I was a little surprised, though, that the inside of the slide, while still blued nicely had tool marks above where the barrel sits. The rest of the inside slide and the barrel were near perfect.
The hammer also looked a little rough, not bad, but not as nice as the rest of the gun and not as nice as one might expect from HK.
I did note that there is a slight cut out directly across from the ejector claw to help seat the cartridge securely on the breach face, as well as four lobes (2 on either side of the ejector port) that help guide and lock the locking block very tightly. Hmm German engineering.
The polymer frame has a very substantial feel to it which was great compared to the cheap feeling polymer on some other guns.
Before being fired for the first time there was a gritty feel when the slide was racked, but that smoothed way out after 250 rounds.
The sight are good and barrel to slide lock up is just fabulous with no rattle whatever when you shake it.
Magazines were nice too, and eject
very
positively when the mag released is depressed. I cant reach the mag release with my thumb, so trigger finger it is.
To me the gun feels a little nose heavy. Even with a full mag it is not quite as balanced as the Glock.
The trigger at 11.5 pounds double action and 4.5 single action seems a little extreme, just a little too heavy for D/A and a little too light for S/A. Being a combat firearm I understand the reasoning completely. In the heat of action too light of trigger on the first shot may equal to accidental discharge.
I have strong hands so the double action trigger pull doesn't bother me at all. It has a gritty first quarter inch take up and is heavy all the way through to a clean break. Single action, though, is very good. Trigger reset is short with a definite click that's easy to feel, and a very smooth short pull to another crisp break
How does it shoot?
Being on a budget I have feed the poor little gun only WWB ammo, after a FTE on the very first round it hasn't minded the light loads at all, with no other problems experienced.
After only 520 rounds reliability is very good but personally only 520 round doesn't tell me hardly anything about reliability.
It is a sweet shooter, recoil on this gun is milld and just feels plain good to shoot. I only wish they designed the gun to sit lower in the hand, I way prefer a lower bore axes (personal preference) Sights line up well from the draw and follow up shots are a breeze.
The guns accuracy is way better than my accuracy. As long as I keep the right amount of finger on the trigger and don't push my shots, as I have a habit of doing on smallish guns. I got some nice groups from two handed, unsupported, semi fast firing, at 7 yards.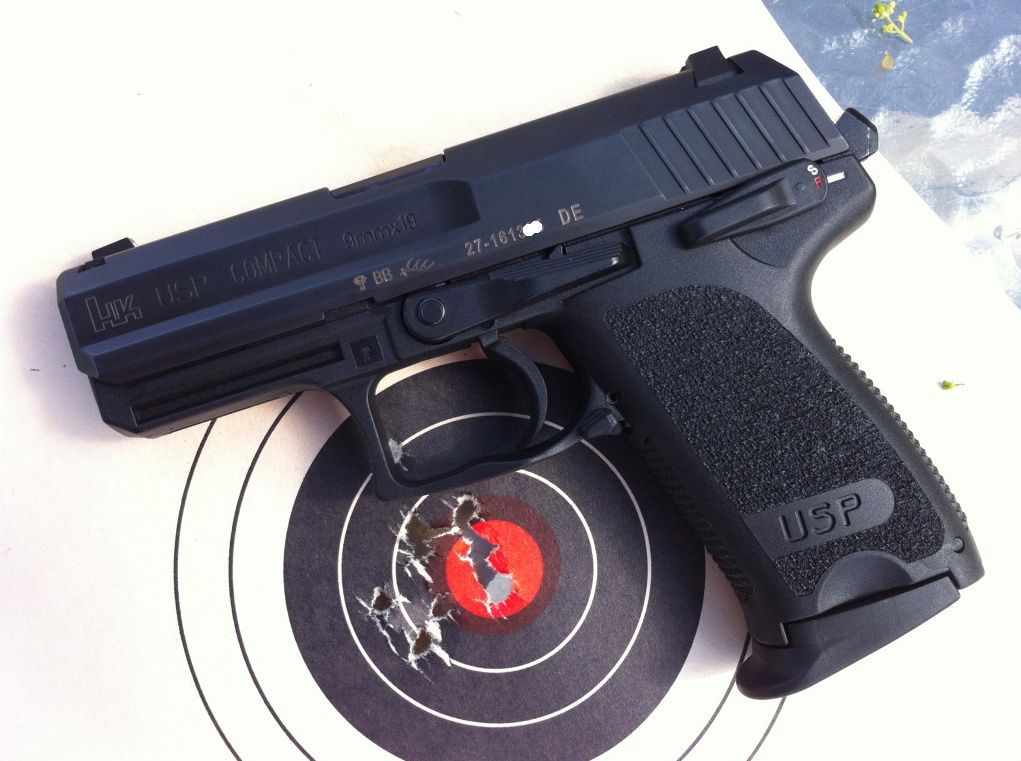 As an aside, I had the outdoor range to myself this morning because of all the rain. I don't really think shooting in the rain should affect a gun in any way nor should it says anything about it's reliably. But it did say something about how well the aggressive stippling secures the gun in the hand. Can you say "like a rock!" yup, it was very good.
Yah, the HK USP compact is a great gun and I like it a lot more than I thought I would.