Discussion Starter
·
#1
·
I have a Form 1 that I submitted in July to make a CZ Scorpion SBR. I probably would have forked over the cash for an SP5K instead if I had realized I might have been able to get one filed before the 41F deadline.
Recently, I can't stop thinking about what mods I would make if I SBR'd a SP5K. I was thinking I would probably go with the standard B&T folding stock, but then I came across an interesting picture: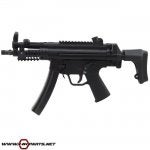 (source:
https://www.hkparts.net/shop/pc/Surefire-M77-Tri-Rail-For-MP5K-SP89-Clones-349p389.htm
)
I just think that setup looks amazing, and very functional/compact. If I'm not mistaken, that's the 'K' model, but with the telescoping stock that I thought was only normally possible on the full-size version. Can anyone provide info about that stock with the 'K' model? I had thought that it would take adapters and custom work to make that possible.
Also:
- Does anyone have experience with that Surefire Tri-Rail? I'm interested in being able to mount a weapon light, and that seems like the ideal rail for the job. It's still currently available from HKParts - but I think it's crazy that Surefire would stop producing it, since the SP5K has just breathed fresh life into the MP5 world (maybe they'll start production again?).
- Does anyone prefer the more traditional MP5 rear sight rather than the one that comes with the 'K' models? Are there pros and cons to either sight picture? Once approved, I would probably never use the SP5K without a stock, so I wonder if the traditional rear sight would perhaps be 'better'.
- Do you prefer a magwell hold, or the VFG? Why? I see the factory VFG on most K-PDW configurations, but I think a maxwell hold would probably be more comfortable/intuitive for me.
All this stuff about barrel swaps, locking pieces, paddle mag releases, forends, stocks, just screams $$$$$. I'm debating just canceling my pending Scorpion Form 1 and selling the pistol it if it would make this project more affordable, but the 'reasonable' part of me is saying just keep the Scorpion and have fun with it until I can really afford this project later on. The Scorpion is a cool gun for the money, but the HK is just
THE subgun
, you know? I appreciate any and all comments, especially any answers to my questions (I've shot a few MP5's and one Scorpion but I'm still relatively uneducated about subguns/PCC's).
***(Being an HK nut is killing my wallet)***