We're proud to release the first half of the 2017 Training Schedule.
Listed below, these open enrollment courses are being offered at our primary host location at Frontline Defense in Warrenton, North Carolina, as well as trips to Colorado and Michigan. The latter being an exciting project still in the works and sponsored by Dakota Tactical.
We're constantly improving our programs and have found that three days of training allow for most "bang for your buck" and a thorough amount of progressive fundamental drills that lead to assimilation and major performance gains. Though we are also offering a one day pistol course, you will otherwise see three day courses that combine pistol and sub-machinegun or pistol and rifle.
For those who may be wondering about the difference between the "Operator" and "Advanced Operator" titles, this mainly relates to the "Operator" course focusing more on the newer shooter, individually-focused, with limited Armorer training, while the "Advanced" course builds into teams and also includes low light/no light and vehicle training, though limited Armorer training can also be incorporated.
Though all these course have a heavy background and focus on Heckler and Koch weapons, these are not a prerequisite, and bringing any reputable and reliable pistol, SMG or rifle is welcome. For the SMG training, a limited number of Heckler and Koch post-sample sub-machineguns are available for rent, on a first come first serve basis.
For further information, or to enroll, please contact me through my website,
Home
4 February 2017: Advanced Pistol Operator Course
-Warrenton, NC (hosted by Frontline Defense)
17-19 February 2017: Pistol/SMG Operator Course
-Warrenton, NC (hosted by Frontline Defense)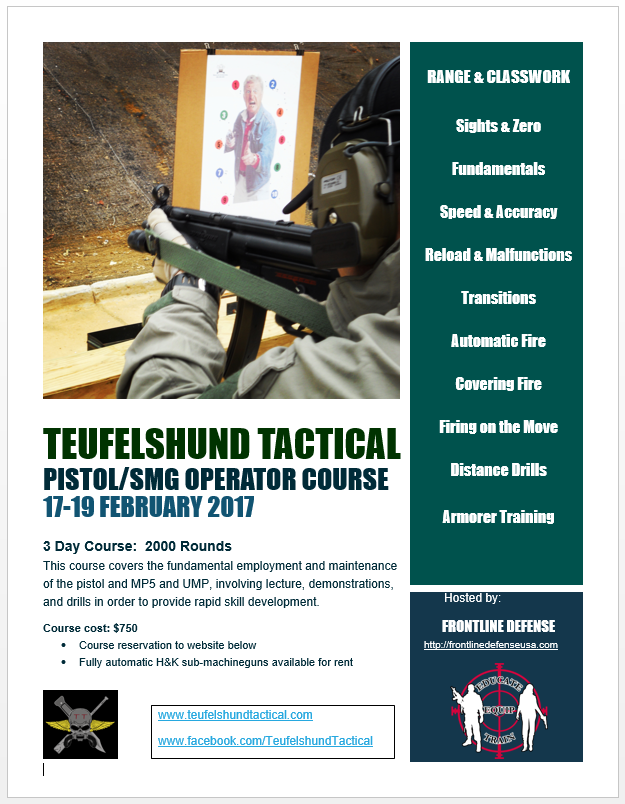 10-12 March 2017: Advanced Pistol/Rifle Operator Course
-Warrenton, NC (hosted by Frontline Defense)
19-20 April 2017: MP5/UMP Operator Course (LE Only)
-Durham, NC
16-18 June 2017: Advanced Pistol/SMG Operator Course
-Albion, MI (hosted by Spectical Lake Outdoor Club and sponsored by Dakota Tactical)