Discussion Starter
·
#1
·
Is very effective. I took first place with it in RECCE class including a clean score on the longest stage which was ten targets ranged from 500 down to 350.
https://docs.google.com/spreadsheet...6PFr-5Wuj4/pubhtml?gid=1594487862&single=true
The course of fire was not easy:
docs.google.com/spreadsheets/d/1Tzl8Jzi7zUDRD2gMnw4bdJCaNvFgU_q-G6PFr-5Wuj4/pubhtml?gid=1582897752&single=true
I have a lot of confidence in this gun. It won 2nd place in DMR in it's first match, and now 1st in RECCE. It's an MR556 upper on a DPMS lower.
This is how I shot it as a RECCE class gun. ACOG TA01-NSN in a LaRue mount, a Lancer Carbon Fiber handguard (awesome) Thunderbeast suppressor mount, RRA 2 stage trigger and Magpul stock.
Ammo was handloaded Hornady 75's over 8208 XBR. The load is over book so I won't publish it, but it's about 2650fps.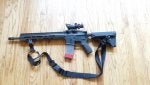 If you are in Eastern/SE PA and have an AR or other gun with an optic 6x or under, you can shoot RECCE and should check these matches out. It is so much fun, and you'll become a much better shooter for coming.