BUNDLES ARE GONE! ScubaCuba bought the 2nd to last pair and the other just sold on eBay. I went to throw out schematics, reams of paper and USPS Priority shipping receipts....and found 2 more single THUMBWHEELS that were hiding under a box.
I put them on eBay for $60 (e.b. and p.p. kill me w/fees...) but For Forum memberS the T.W. is $50 shipped. I'm done and will never make 'em again.
Thanks to ALL especially AGG, AZIMUTH, KLAUSTRAPHOBIA and the recent support from HEAVY ARTILLERY and SCUBACUBA.
Mike
Okay MARK 23 owners, here it is: Finally an "updated" modern Picatinny rail adapter that we have all been waiting/asking about for years. From the word go, we have nothing bad to say about previous products. What we do have, is an adapter that has everything I wanted as an owner and tried to include all the feedback we have heard and read on this forum and other places.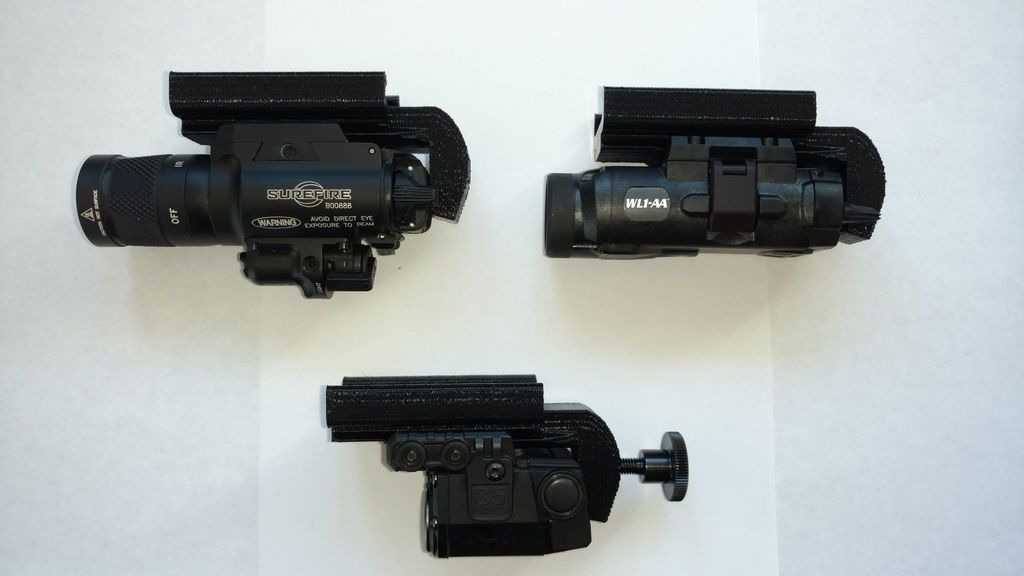 First of all, our design features Improved Fit & Finish. The "fit" to the MARK 23 is snug and slides on securely w/o marring the proprietary rail. The 'radius' perfectly matches the curvature of the trigger guard and was perfectly designed to match the taper at the bottom. The corners on the long axis have been rounded instead of a blocky square. Throughout testing, we could not find a single light or laser that "required" the 4th slot, so in favor of a snag-free draw or wear upon re-holstering….it was deemed unnecessary. Using MIL-STD 1913 Picatinny dimensions, the slots were measured and the modern rail has ample room to securely mount any clamp-type accessory.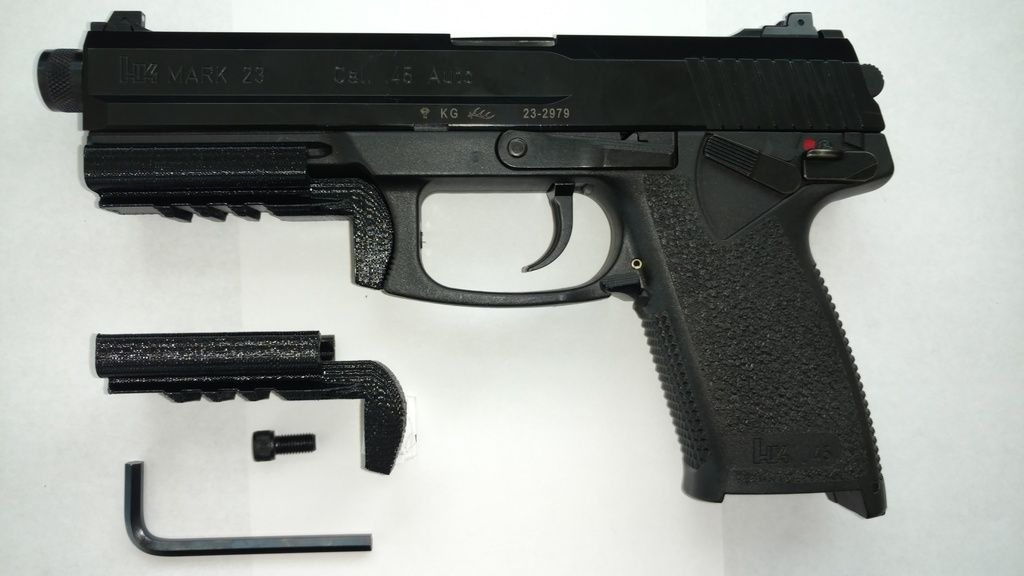 Initial posts for interest were met with both enthusiasm and doubt, whereby exhaustive testing revealed many things. Yes, it is a form of plastic. The plastic used is a co-polyester that is very durable with a high impact resistance. No, we're not going to say which one but it is a very strong design of layered, 3-d printed plastic.
It will hold a laser zero. A 5 round group of Winchester 230gr ball was fired from 25 yards with a Viridian C5L and the KAC can. Then 100 rounds Rapid Fire R.hand — L.Hand — loose grip — and sideways (read: Gangsta) into the trap. 5 more rounds were fired onto clean paper and then overlaid with no deviation. This was repeated again twice more over the course of a month with various +P loads and achieved the same result. Next came Stress-Fire. In order to determine if the plastic would suffer separation or de-lamination of the layers of the 3-D build with +P loads, the following test was devised. (Bear in mind this is a niche' product and we tried for reasonable cost, so no….thousands of rounds were not expended).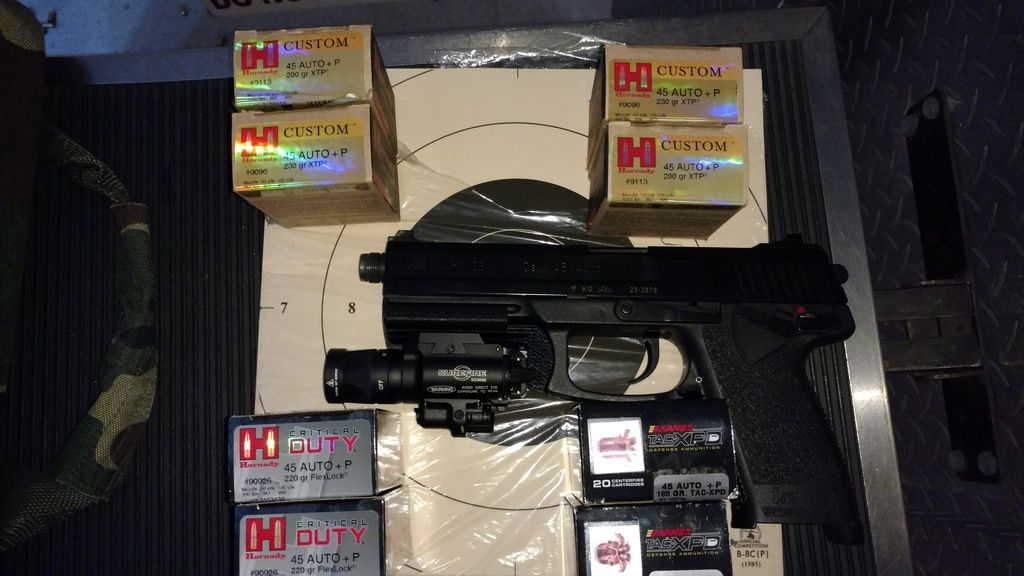 160 rounds of +P were purchased in graduated grains. 40 rounds of BARNES TAC-XP 185gr +P, 40 rounds of HORNADY CUSTOM 200gr +P, 40 rounds of HORNADY CRITICAL DUTY 220gr +P FlexLock and finally, 40 rounds of HORNADY CUSTOM 230gr +P XTP. Two 10rd magazines were loaded with each power .45acp for 8 total mags. A Sure-Fire X400V (my heaviest device) was affixed to the standard mount. The adapter was inspected prior to firing for any defect and the test commenced. Each variation of the grain weight ammunition was fired at a target 15 yards away in 20 rd. increments 185, 200, 220, and 230 with no issues. Then the KAC can was affixed and the same was conducted again, for greater weight and different recoil characteristics on the firearm/adapter. Again, no issues were observed. We tried to "physically" snap them, like a wishbone, with thumbs and index fingers to no avail. It must be levered with great force to break it.
Now….after posting in POSSIBLE BUSINESS VENTURE, I received maybe 10 responses of "interest". I chose the first 3 and sent them samples to Test and Evaluate. I told them all I wanted honest feedback, and if they could "break it" ? Do their worst! One succeeded with .45 SUPER with an early prototype. I personally chose not to go to that length, but I am honor bound to inform you and hereby admit, my partner and I do NOT recommend firing .45 Super with our adapter. All 3 testers were invited to post reviews as soon as we launched the adapter. I now humbly invite them to reveal themselves and I accept whatever their observations and experiences were. I was gratified to find them all well-versed in HK, MARK 23, and mechanical knowledge. Thank you gentlemen for your willingness to participate in the Testing and Evaluation stage!
PRODUCT:
Well Men, here it is. The big reveal. My partner is half Genius and half Mad Scientist and thereby never said no. Throughout the process, I only wanted to bring to market an Honest and Reliable product. We achieved that weeks ago and continued testing the standard 3-slot version that bolts to the trigger guard. But the more I lamented in my head the need to 'remove' the chosen device to dismount the adapter….the more it bothered me. The nature of the 3-D printing (lateral or tensile strengths) made it Impossible to put a LAM style wheel on the front-side w/o compromising the design in the upper corner. So it hit me one day to place a thumbwheel screw inside the trigger guard to facilitate the ability to 'leave' a laser mounted, but remove the adapter and NEVER lose zero! Remember, the gi-NORM-ous trigger guard was designed for Operators with arctic mittens or thick scuba gloves. I personally feel there is a ton of room inside the guard for the wheel. It is just an option.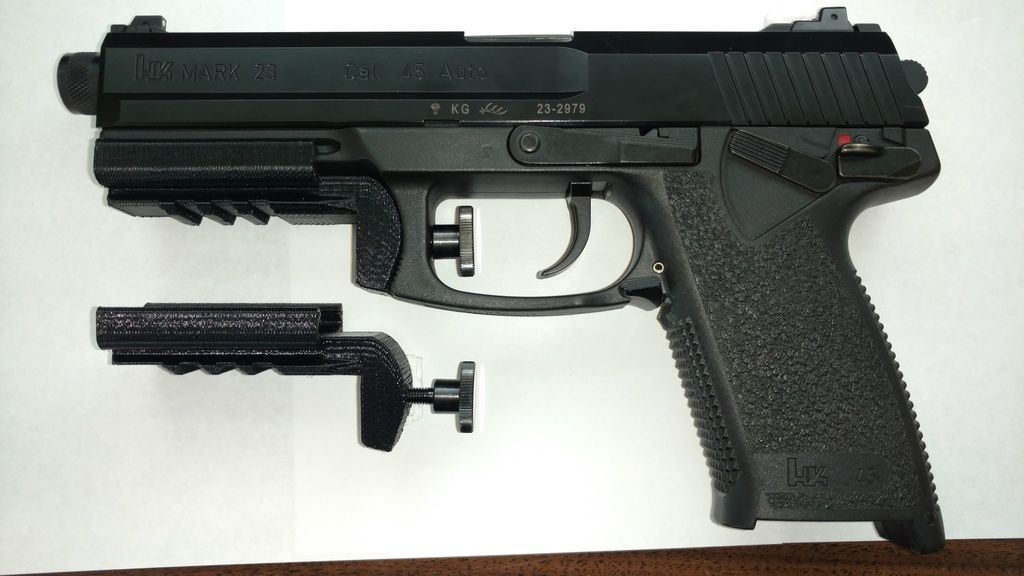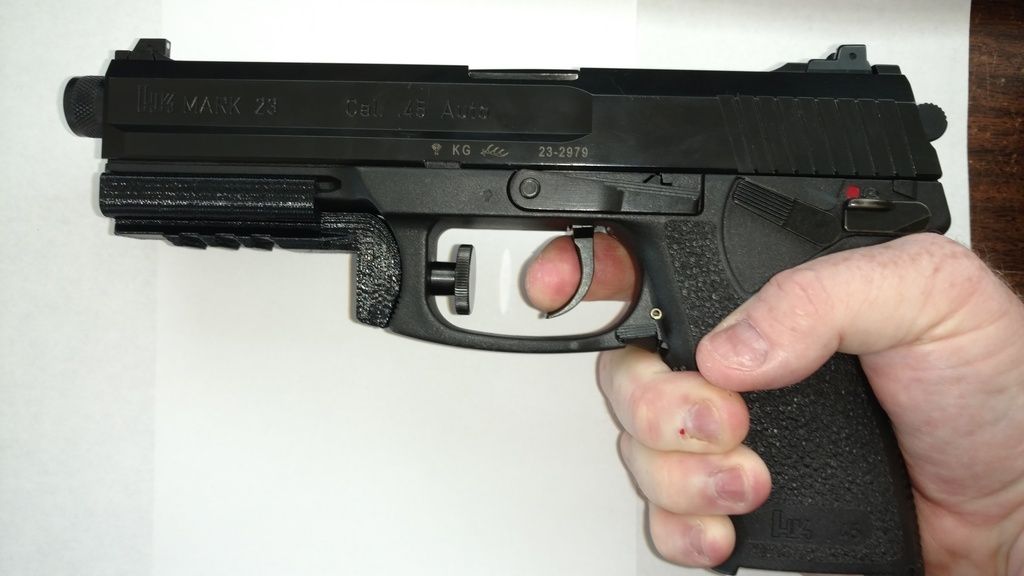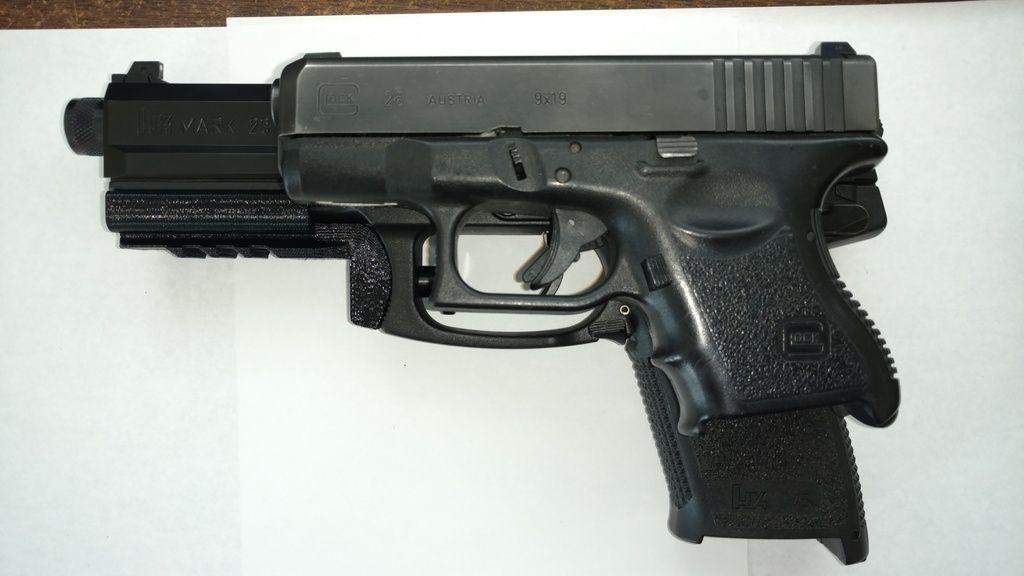 FREQUENTLY ASKED QUESTIONS:
Is it rated for +P? Yes.
.45 Super…….not so much.
It looks "shiny" in the pictures? Yes, due to the nature of the media it appears Semi-Glossy. That is the nature of what is available at this time from manufacturers but we continue to seek a more flat black product to produce the adapter.
Can I paint it? Yes. I had great success with a flat black camo paint from Home Depot that stated Plastic Friendly. Due to the "ridges" of the print layer(s) I found some minimal transfer to my hand after around 24 hours. Customization is up to the end user. Read tester review for additional ideas.
Is it brittle in cold environments? No. I will let one of our reviewers tell you about his experience in a snowy Western State.
Why plastic? Why not improve with metal? Two reasons: One, it already exists…and as you know, is prohibitively expensive to design and manufacture. Two, this is a Half-Price alternative to any viable CNC or metal design. We said this in our initial post, and I will repeat it again with no insult intended. If you are a purist, or putting in 50 yard SEAL or DELTA headshots on the run….then by all means, get the CNC one. If however you believe that technology has come far enough to allow this product to have the strength to hold up to repeated firing and recoil, then give us a chance.
The price point is half of currently available products. We have put our hearts, along with our reputations and integrity into design, building, and testing. I had 1 MARK 23 at first and myself purchased an aluminum adapter. When I bought #'s 2&3 I needed just 2 additional adapters to put in the safe and wait 10 years and maybe sell them. When they were OUT OF STOCK for months on end…..well, I thought we could 'build a better mousetrap'.
That's it, so thanks for your time to read this and STAY SAFE OUT THERE !
P.M. me for PAYPAL link or for photos.
No International sales at this time.
(PATENT PENDING)