All barrels shown are authentic/original German HK 3-lug with Navy threading of 1/2x32. Can provide pics or video showing KAC Navy 9mm suppressor attached to any of these barrels. I've never fired or used any of these, are part of my collection. I won't be using any of these as I already have a 4th K-N barrel installed in this SP89 that I also won't be firing:
https://drive.google.com/file/d/0B4ObaWhQi0nldDJxT1FCbXhnN2c/view
All pics provided are of the actual items/barrels, not stock photos. The top 5 pics were taken today. The last 4 pics were taken by the previous owners.
Option #1
.) Shown at top of pics 1 & 2 and again in pics 3, 4, & 5: HK MP5K-N with K-N barrel from demilitarized MP5K parts kit installed, built on KD date code SP89 by Jayson of IGF in 2015 (paddle mag release, German sight tower, remarked to MP5K, refinished, etc.). I have the email thread from the original gunsmith, Jayson of Investment Grade Firearms (IGF), regarding the installation of this barrel from a demilled German MP5K (as denoted by the sling loop). While the barrel was refinished and Duracoated/Cerakoted with the receiver, you can still barely make out the original proof marks/engravings (including the eagle and the 'N' below the eagle), see last pic for close-up. I also verified the chrome K-N barrel from view within the receiver. Includes everything shown in 1st pic (SP89 pistol, HK K-N barrel installed, original SP89 lower, 30 round magazine, B&T rail, & original SP89 hand guard). (
TRADED, no longer available
)
Option #2
.) Shown at middle of pics 1 & 2, and again in final two pics: Includes full demilitarized MP5K-N (notice sling loop), an all German parts kit as seen in the next to last picture. Does not include the SP89 shown in next to last pic, but includes all else (front end w/ K-N PDW 3-lug Navy barrel,
MP5k German Full Auto Carrier
, MP5K Navy ambi trigger group,
MP5K Rear Sight Stub
,
Cocking Tube/Support/Handle
,
MP5K Trunion (German)
, MP5K German fore grip,
Demilled MP5K German Sight Tower
, HK marked folding stock, 30 round mag, etc). (
TRADED, no longer available
)
Option #3
.) Shown at bottom of pics 1 & 2 and again in pics 7, 8, & 9: A new or like new K-N barrel with AE date code, not installed. This is the exact type K-N barrel that the HK factory installed into SP89s back in the early 90s (no sling loop variant, not from demilled MP5K). Was asking
$3250
shipped.
Sold and shipped for $3295
Will accept PayPal gift (friends and family), bank check, or check (must clear).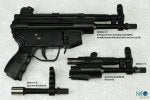 You'll also find the MP5K w/ German K-N barrel listed in the pistols for sale section along with another MP5K-N:
http://www.hkpro.com/forum/hk-pisto...-1-2x32-navy-threading-2-pistols-offered.html