*Lasers and VP9 mags are sold, other items still available*
4 brand new in wrapper 15 round P30/VP9 9mm mags - $140 shipped.
***4 Vp9 mags SOLD to Johnnycat***
(All 4 Sold) 4 Crimson Trace LGD-645 INFRARED HK45c lasers NEW
$450 shipped each.
***1 laser 39SHIPPED to 4C Dragon***
***1 laser 44SHIPPED to Anthony.L***
***lasers 31 and 32 SHIPPED to Johnnycat***
P30 user manual, back straps, and spent casing envelope, $15 shipped.
If you somehow happen to be the owner of serial number 116-050281 and can prove it, you can have it back for free!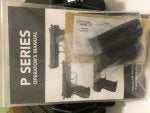 Safariland G36 mag holder. Appears to be unused. This is the only one I've ever seen (not that I was looking for them) it holds a single 30 round magazine and it appears it can be mounted through the use of some small screws and brackets that are built in. $45 shipped
G36 stock with receiver stub. Unfortunately the stub is cut too short for the Bostic conversion (Tom verified). Maybe someone can experiment with it on their own. Includes the hinge parts as shown. $65 shipped
One .40 cal P30 10 round mag that has marks from being in and out of the weapon, but never shot -$30 firm shipped
Payment by paypal+3.5% to cover fees, or USPS money order
Not looking for trades at this time