Discussion Starter
•
#1
•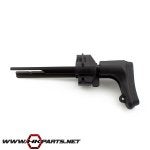 The Universal MP5 A3 stock offering is known as the universal stock as it fits all 9mm, 40 & 10mm MP5 style of firearms. A perfect low cost solution if you need a stock for all of the MP5 variants in 9mm, 40 & 10mm as well as clones. This is the latest aftermarket MP5 F style of stock offered with a super low price. This is sold as the stock only push pins are also available below. The best value for the money as they are the nicest stock available for the money.
Modeled after the German HK MP5 F style stocks & nearly identical
Best stock for the price found anywhere
Fits all in spec MP5, 9mm and 40/10mm models & C93, C53 & V93, V53
Fully Collapsible 2 position (all the way forward & extended)
Locks up solid when retracted
Has the "F" improvements and upgrades, Improved buffer, rubber buttpad.
Fraction of the price of the German HK F A3 stock
Imported & commissioned by ATI
This stock is designed for use on real MP5 SMG's.
Designed to be used on all in spec MP5, 94, Clones, Custom builds, etc
Measures 10.5" in length from the middle of the pin hole to the buttpad
*** Can also be used on C93 or HK93 firearms ONLY if you have a buffered carrier installed as found on all C93 rifles and C53 Pistols. As well as most Vector Arms V93 and V53 firearms.***
Closeout item, sold as is. Once these are gone there will no more! ATI stocks often require fitting of one of the push pin holes to line up with receivers. A simple mod and easy to do.
-------------------
Price is $137.95
-------------------
Follow the link for more details and to order online. You can also order through the phone at (801) 987-3494
https://www.hkparts.net/shop/pc/MP5-F-A3-Universal-Retractable-Stock-ON-SALE-5p2621.htm
-------------------------------------
Click below to view all of our HK parts!
https://www.hkparts.net/shop/pc/home.asp