I have a variety of stuff sitting around with no planned use that I would like to make available to members. PayPal Family/Friends or PayPal +4% Goods or Postal MO. Shipping included.
1) Wood Buttstock for HK93/MP5 - $SPF to pipelinen
2) Universal German A3 Buttstock for MP5, date code 'id' - $SPF to pipelinen
3) Brugger & Thomet, #21573 Forearm for MP5-K, LNIB - $240.
4) Dakota Tactical DTAC Modular Handguard, M-Lok with Zero Bravo handstop, pulled from my new DT 54R - $SPF to kbinmt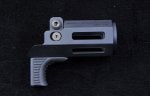 5) SilencerCo Saker 762 flash hider, M15 x 1, NIB - $76
6) SilencerCo Spec War flash hider, M15 x 1, NIB - $76